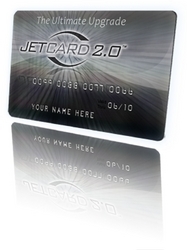 Scottsdale, AZ (PRWEB) April 1, 2009
JetHub, a premier private jet charter broker, announced today that it has introduced a new innovative jet card product unlike any in the industry. JetCard 2.0 is the company's flagship product being introduced this year. The JetCard 2.0 Program will provide its members a unique product providing guaranteed booking priority, discounted hourly rates, access to any category of jet in the program, FDIC fully insured deposit and no management or maintenance fees. Other enhancements include a dedicated Charter Advisor who acts as a clients personal flight department, 4 hour guaranteed availability and a 100% fully refundable deposit balance.
"When we developed the JetCard 2.0 Program we wanted to bring to market a product that would revolutionize this segment of the private jet charter industry," said Kevin Lippert, President of JetHub LLC. "Jet cards have been around since the 90's and it was time to upgrade an antiquated product and offer private jet clients a new and innovative way to travel on a private jet. That is where we came up with the name JetCard 2.0, it represents a new horizon, a new upgraded concept on an already proven product. We listened to our clients' needs, concerns and desires and with that information we have built in exceptional value and protection for each card member. Providing our clients incredible flexibility along with our strictest commitment to safety and service is the guarantee of the JetCard 2.0 Program."
JetHub clients joining the JetCard 2.0 Program will enjoy the flexibility of booking an aircraft from any category in the program. Unlike the old 1.0 approach to jet cards, where card holders were locked into a specific aircraft, JetCard 2.0 allows card members to book any plane from a Hawker 400XP to a Gulfstream G550. Another great enhancement to the program is that card members who fly predominately on light jets will most likely be able to fly more than 25 hours with the program's level 1 deposit, most jet cards will restrict travel to only 25 hours making the per hour rate extremely high.
The JetCard 2.0 program offers three deposit levels, with each higher level providing greater benefits to the card member. Compared to fractional jet ownership, card members avoid the risk of a depreciating asset, which is a big advantage in today's economic climate. The hourly pricing structure of the JetCard 2.0 Program provides the card member complete confidence on the cost for each flight without the surprise of fuel, crew, repositioning and other 'extra' fees typically found in the old antiquated programs. For more information read JetCard 2.0 brochure. It's time to enjoy flying again.
About JetHub
As a private jet charter broker based in Scottsdale, AZ, JetHub provides its clients with worldwide access to the largest fleet of private jets. On-Demand charter remains the largest segment for JetHub, but now with the most innovative jet card program in the industry, the company is ready to provide its clients with a full complement of choices. JetHub selects and approves the operators used for each flight based on the FAA safety standards and additional standards set forth by JetHub LLC.
Contact:
Kevin Lippert, President
JetHub LLC
888-435-9774
http://www.jethubaviation.com
###