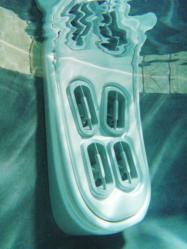 Salt Lake City, Utah (PRWEB) May 23, 2012
Bullfrog International announced a new website located at http://www.JetPakSpas.com. This new site showcases their patented JetPak Technology and aims to educate both consumers and pool builders on the applications of JetPaks in custom spas.
JetPaks are removable and interchangeable jetted spa seats that were originally designed to be used in portable Bullfrog Spas. In custom concrete spas these customizable seats provide the therapy, contoured comfort, and personalized massages of a Bullfrog portable spa, while the pool owner enjoys the aesthetics and longevity of a custom built spa.
JetPaks are placed into custom spas, by the pool builder, during the construction process and may be interchanged at any time now or in the future.
Three of the most popular JetPaks, the Oscillator, Spinal'ssage, and ClusterSpray were chosen for the original offering. More JetPak models for custom spas are likely to follow. These JetPaks are available in 4 color choices to compliment the look of nearly any pool project.
Features of the new JetPakSpas.com website include information for home owners and pool builders, a description of JetPaks and their massages, a photo gallery of custom spas with JetPaks, and a blog to share news, specials, and updates.
For any questions on JetPaks for Custom Spas feel free to contact Dan Sjoblom at Bullfrog International via email at dsjoblom(at)bullfrogspas(dot)come or by calling 801.565.8111.