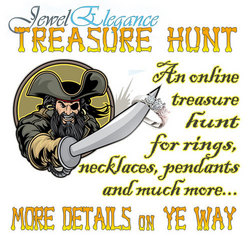 Raleigh, NC (PRWEB) May 28, 2008
In time for Father's Day, Jewel Elegance is holding a Treasure Hunt, available to all bloggers everywhere.
More information will come on the Treasure Hunt page in the upcoming weeks, but be sure that it will be fun, exciting, difficult, and rewarding for the winner. Whoever can answer the trivia questions the fastest and follow the clues to the Shiny Booty will win a special Father's Day Prize from Jewel Elegance. To enter the contest, all you need to do is write about the Treasure Hunt in your blog and wait for more info to come.
In conjunction with this contest, Jewel Elegance has a special coupon code available through Father's Day, good for 10% off all items! The code is "DADSDAY08". This code is available to everyone, regardless of whether or not they have a blog. Happy shopping, and we'll see you at the Treasure Hunt.
Jewel Elegance is a leading online retailer of fine jewelry, providing the highest quality merchandise available in the marketplace today including diamond jewelry, medical jewelry, military jewelry, gold jewelry, etc. With over 50 years of combined industry experience, Jewel Elegance will give you the most knowledgeable customer service along with its extensive assortment of quality products.
###