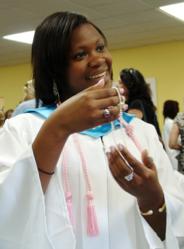 Even if she never purchases or receives another piece of fine jewelry in her life, she will always have her strand of pearls.
Easton, MD (PRWEB) June 08, 2011
Silver Linings on Maryland's Eastern Shore gave a strand of pearls to every girl graduate—approximately 170 in all—of Easton and St. Michaels high schools to honor the achievement of these young woman.
The owner of Silver Linings, Aida Leisure, developed the idea when she noted a trend over the last few years that fewer young women were being given pearl jewelry as a graduation gift. Leisure said, "Our society is moving towards giving 'everyday' gifts rather than traditional keepsakes, like pearls. In general, the same amount of money is spent on graduation presents like gift cards, designer purses or electronics. These all have short life spans and minimal long-term sentimental value. It was my desire to give the 2011 graduating girls in my community a long-lasting and special gift. Pearls are timeless."
Pearls have traditionally been presented to young women as their first piece of fine jewelry. They are considered a gem and have recently become very affordable, because of technological advancements in harvesting. Used both as jewelry and to adorn objects, pearls have a fascinating history and are cherished around the world as symbols of purity, affluence and elegance. The necklace Silver Linings selected for each graduate is valued at $75 and is comprised of cultured freshwater pearls and a sterling silver clasp that took one hour to string by hand.
Leisure continued, "Each girl graduate will now be able to own and wear a classic piece of jewelry throughout her life-journey. It will most likely be the predominant accessory of the outfit she will wear for professional interviews. It very well could be worn on her wedding day, and she could even pass the necklace on to a child in future years. Even if she never purchases or receives another piece of fine jewelry in her life, she will always have her strand of pearls."
About Silver Linings
Silver Linings captures the essence of fun and fashion with innovative jewelry designs in sterling silver and gemstones. From internationally recognized designers to trendy collectible lines like Chamilia and Kameleon, Silver Linings has something for everyone. Customers can shop online or visit one of the retail locations in St. Michaels or Easton, MD. Recently named "Best Silver Jewelry Store on the Eastern Shore," Silver Linings is committed to supporting local non-profits through events and fundraisers. Learn more at http://www.silverliningsmd.com or contact Aida Leisure, owner, at 410.745.2626 or dbsjewel(at)verizon(dot)net.
###