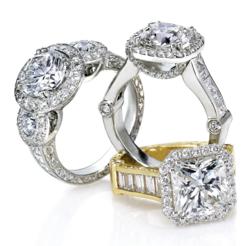 Gentlemen want to give their life love a ring that symbolizes the magnificence of their relationship
San Francisco, CA (PRWEB) January 26, 2012
Inspired by the intricacies of the art of his Mediterranean heritage, Khoren Ekmekjian, cofounder of Ritz Jewelers, has developed custom jewelry that is popular with celebrities, as well as the everyday man and woman. He has carefully designed a line of engagement rings and wedding sets that celebrate the deep and enduring love of the betrothed.
The signature Khoren Crown setting creates a clean, elegant finish to Ritz Jewelry. A tilt to the side of the ring reveals the ornate alternating curves and geometric lines found in highly prized Byzantine jewelry.
"Gentlemen want to give their life love a ring that symbolizes the magnificence of their relationship," said Garen Ekmekjian, cofounder of Ritz Jewelers. "The Khoren Crown makes the center stone diamond look much larger than it would in other settings, while the complex, regal designs of the ring convey the intertwining of the couple's lives and souls."
Ritz Jewelers, the premier purveyor of San Francisco designer jewelry and maker of custom jewelry, was founded in 1986 by brothers Khoren and Garen Ekmekjian. The fine jewelry retailer and wholesaler is renowned for fashion forward designs that meld contemporary simplicity with timeless intricacy.
Clients fly in from all over the world to collaborate with Khoren to design custom jewelry pieces. The Khoren collection is making Khoren's signature designs available to lovers of fine jewelry at a lower cost for unique, custom designs.
Ritz Jewelers recently opened their new flagship store at One Embarcadero Center in Downtown San Francisco. The 821-square-foot store is located at One Embarcadero Center, which also houses Victoria's Secret, On the Fly, Spargo, and Allen Edmonds men's shoes.
Ritz Jewelers' recently launched their Facebook page (facebook.com/RitzJewelers). It is a great place to stay informed of new and exciting jewelry designs. A recent post about a San Francisco engagement ring design success story states: "I love my engagement ring. You guys made it fun and easy. I get many compliments on it every day!"
For more information about the Ritz Jewelers, call the store at (415) 658-9227 or visit them on the web at http://www.ritzjewelers.com.
About Ritz Jewelers
For 25 years, Ritz Jewelers has been a trusted source of classic, elegant jewelry at excellent prices in San Francisco. Ritz Jewelers is known for creating flexible designs that can be translated from piece to piece so that clients can purchase or modify an individual item or create or build upon a unique collection. The store is the premier place to purchase wholesale jewelry and loose diamonds in San Francisco.
###