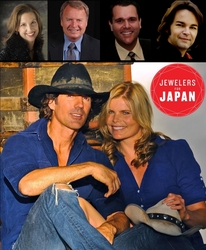 "Mother Nature is powerful. But so are we"
Dillon, CO (PRWEB) April 15, 2011
Unlike most fundraising groups, Jewelers for Japan is asking jewelers and consumers around the country to donate scrap gold, silver, gold filled, platinum and palladium jewelry, in lieu of cash. Through an agreement with Rio Grande, a supplier to the jewelry industry of Albuquerque, NM, Jewelers of Japan has arranged for donated scrap jewelry to be refined and converted to cash without a refining fee. (see scrap packing list) All proceeds are sent by Rio Grande directly to the American Red Cross, to help in its Japan relief effort. The initial goal is to raise $1,000,000.00 million dollars to go directly to helping the people of Japan.
The effort is co-chaired by Julianne Paulsen CEO of Viaggio Bracelet and retail store, Rocks the Jewelers, and online jewelry-industry pioneer Jacques Voorhees, of VeriChannel, LLC in Colorado. Actress, author and living green expert, Mariel Hemingway along with partner, actor and healthy living expert, Bobby Williams, have joined the effort as ambassadors. Kevin DeSoto, a media and public relations strategist, and Andrew Max Link, an internet technical specialist of BrandMini, are volunteering their services as well.
In addition to seeking donations from jewelers alone, the organization's website also provides step-by-step advice on how jewelers can arrange donations from their local community, via an outreach program that invites consumers to donate unwanted gold and silver jewelry, etc., through their local retail jewelry stores.
"It's heartbreaking for all of us to watch those images of people suffering, coming across the TV every night," said Ms. Paulsen. "This is something our industry can do that will make a difference. We all have scrap gold and silver. Rather than just send it in for a check, let's send it in for the benefit of those in Japan who have lost everything, including their loved ones. Personally, I can't think of anything better we could do with our scrap gold and silver."
"We're hoping the campaign goes viral," said Voorhees. "To make it happen, we'll be harnessing online social media with Facebook, and Twitter campaigns to spread the word. We hope to reach 80% of retail jewelry stores in the U.S. within two weeks."
"We're very happy to be part of such a worthwhile effort," said Alan Bell, owner of Rio Grande. "Whatever we can raise through the Jewelers for Japan effort, we know it will be well-received."
ADDITIONAL CONTACT INFO:
Julianne Paulsen, Co-chair, JFJ +1 (218) 929-2100
Jacques Voorhees, Co-chair, JFJ +1 (970) 393-2994
About Jewelers For Japan
Jewelers for Japan is dedicated to providing jewelers a simple and easy way to make a difference. Our concept is simple: take your scrap gold and silver, gold-filled, platinum, and palladium jewelry, and donate them to victims of the disaster. If you wish, invite members of your local community to donate unwanted gold and jewelry as well. Your store can serve as a collection point.
About Rio Grande
Rio Grande began with a vision of better serving the jewelry industry. What started as a small operation has grown into an international distribution center for thousands of valued customers. Our vision remains much as it was when Saul Bell founded the company more than 60 years ago, with customer service, support and satisfaction the basis for all business conduct. As a young man, Saul Bell dabbled in a number of occupations during the ebb and flow of war, the Crash of '29, the Great Depression, and the second world war. During one of his stints in construction, he happened to pass through New Mexico on his way to California and marvelled at the vast quantities of silver jewelry available at stops throughout the southwest. It didn't take this young entrepreneur long to realize that the skills he learned as a jeweler's apprentice under his uncle, and the experience he gained during the 20s, when he had his own jewelry business, could be a valuable commodity in a place like New Mexico. So, with a lot of ambition and not much else, he gathered up his new bride, Olive, and moved to Albuquerque.
###