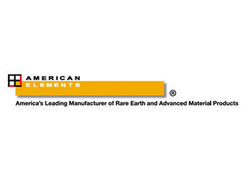 Los Angeles, CA (PRWEB) September 15, 2008
American Elements announced today that is has begun production of the first pure iridium wedding ring and wedding bands. Due to its very high melting point which exceeds platinum by 500 º F and its extreme rarity (much rarer than platinum), pure iridium wedding rings are the most luxurious choice for wedding rings for either men or women.
Iridium will virtually never change color or oxidize having the highest resistance to corrosion of any metal making it the perfect expression of an eternal bond.
Iridium rings may only be custom ordered directly from the company. Each is produced to order. Wholesale arrangements for jewelry retailers and manufacturers are available.
For further information on iridium wedding rings, please contact your local American Elements distributor or American Elements U.S. corporate headquarters at (1)310-208-0551, FAX (1)310-208-0351 or customerservice@americanelements.com. American Elements is America's leading manufacturer of engineered and advanced material products with distribution offices in Europe, Asia and South America.
###