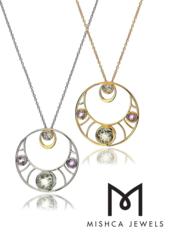 London, England (PRWEB) August 31, 2011
MISHCA JEWELS LONDON will be releasing its newest jewellery collection "Desire" this Autumn/Winter 2011 exclusively at the International Jewellery London Show, 4th - 7th September, Earls Court.
The luxury new "Desire" Collection by Mishca Jewels expresses desire in all its forms through its elegant and detailed jewellery masterpieces, where each individual creation aspires to capture a particular element of desire.
The collection comprises a lavish selection of silver and gold semi-precious gemstone "Cocktail Rings", intricate sterling silver, yellow and rose gold vermeil "Medialuna" pendants and earrings, as well as striking "Hidden Desire" statement cuffs.
Amongst the pieces in the collection, the intricate and ornate design of the Medialuna pendants and earrings are inspired by a blend of rich cultural heritages from around the world and a strong desire for them to work in harmony and complement each other. The modern geometric design and polished silver finish of the Medialuna pieces represents contemporary influences from the Western world, whilst the crescent formation and the intricate body of the creations embody a lavish and ornate Middle Eastern influence.
The magnificently clear, bold and contrasting brightly coloured gemstones, encircled by beautiful strokes of silver and an 18ct gold vermeil circle within the crescent, are reminiscent of the heart and soul of South and Central American lifestyle and celebration. Whilst the three dimensional global architecture brings the piece together and unifies all of these cultures.
The "Desire" Collection will be available throughout the U.K. and online at mishca.co.uk as of October 2011, and is expected to be at the forefront of this season's trends.
And with prices starting at £80 and many colours and styles to choose from, you can treat yourself and loved ones with luxury and affordable gifts.
Unique jewellery and news from Mishca can be viewed on the Mishca Jewels London website at mishca.co.uk.
For further information, please contact Mishca Jewels London at:
Website: http://www.mishca.co.uk
Contact Telephone: +44 (0)20 7193 1995
Notes to Editors:
Mishca Jewels London offers an elegant range of luxury designer jewellery, which is right on target for the independent woman who strives to differ. The brand's collection of exclusive and classic designs of sterling silver and gold vermeil fashion jewellery boasts superior craftsmanship that guarantees excellence. All jewellery comes wrapped in exquisite luxury gift packaging.
###