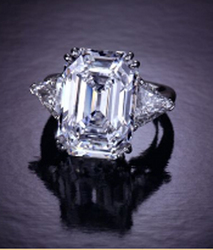 No piece is too large or too small for us to buy, and all verbal valuations are done free of charge.
Beverly Hills, CA (PRWEB) April 7, 2010 –
Many people have fine jewelry, whether inherited, received as a gift, or purchased, which is no longer worn and therefore, worth considering for sale. It can be difficult to know where to begin. It can also be surprisingly challenging to find a reputable and financially sound buyer to identify and evaluate fine jewelry both accurately and fairly. It is with this in mind that Kazanjian & Fogarty, noted jewelry buyers in Beverly Hills, have launched a new website.
Kazanjianfogarty.com is unique among online estate jewelry sites in that all types of fine jewelry can be evaluated at no charge, with no obligation and with complete confidentiality whether it is in gold, platinum, diamond, precious or even semi-precious material. Everything from vintage family heirlooms to signed designer pieces, individual stones, and even a single small, charming item is welcome.
"No piece is too large or too small for us to buy, and all verbal valuations are done free of charge," says Russell Fogarty, President of Kazanjian & Fogarty, Inc., the parent company. "Clients are becoming more and more comfortable buying and selling through the Internet, and offering a means for clients to email photographs of their jewelry to us for a prompt and discreet jewelry appraisal saves precious time and energy chasing around town looking for competitive offers. Our new site is designed to facilitate this approach."
Kazanjian and Fogarty are internationally known and admired within the jewelry industry with a worldwide network of dealers, collectors and connoisseurs on whose behalf they purchase. More importantly, these jewelry buyers based in Beverly Hills have the strong financial resources to buy estate jewelry at any price level and to offer immediate payment by check or wire transfer of funds.
"I am immensely pleased to announce this new website," explains Fogarty. "For the past twenty years from our offices on Rodeo Drive, we have made the process of selling estate jewelry as effortless and successful for our clients as possible, and this new website will allow us to make it even easier for new and established clients."
Emphasizing their friendly, personalized service, Fogarty explains that unlike other estate jewelry sites or businesses that promise "quick cash for estate jewelry and gold" but that are often not what they seem, kazanjianfogarty.com offers world class expertise backed by certified gemologists and truly customer-oriented service.
"We buy jewelry of all styles and values every day at the convenience of our customers. They tend to contact us by telephone or email to request an appointment to bring their pieces in to our Beverly Hills office. Others prefer to ship their jewelry directly to us for an evaluation and offer. Kazanjianfogarty.com is designed to help prospective customers obtain the appraisal and valuation information they need from the privacy and convenience of their own homes," says Fogarty. "The assurance of absolute discretion that has become our hallmark among knowledgeable people continues with Kazanjianandfogarty.com.
Information and details about the selling process, frequently asked questions, and contact information can be accessed at the Kazanjianfogarty.com website. Those wishing to bring jewelry in person for an appraisal for sale can always continue to do so by contacting the offices of Kazanjian & Fogarty at (310) 285-0046. The firm is located at 332 N. Rodeo Drive, Beverly Hills, California 90210.
About Kazanjian & Fogarty:
Russell Fogarty is a former vice president of Christie's, the international auction house. Based first in Los Angeles and then New York, he spent over ten years with the firm. Mr. Fogarty partnered with Michael Kazanjian, the renowned Los Angeles-based gem dealer and jewelry expert, in order to purchase fine jewelry from private individuals and estates at the most competitive prices possible.
Mr. Kazanjian's father, James, founded Kazanjian Bros., Inc. in 1918, and that firm continues in business today. Both men bring great experience to the complex business of fine jewelry. Their clients have included many prominent American and European families, Middle Eastern and Asian royal families, private collectors, banks and law firms representing estate properties.
More than twenty years later, Kazanjian & Fogarty's highly experienced and trained staff continues to provide candid, honest, current and accurate market valuations for the purchase of their clients' fine jewelry and gemstones.
###