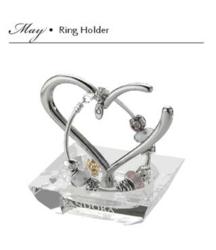 Stop by the Westfield San Francisco Shopping Centre on the second floor to start your own elegant PANDORA collection of charm bracelets, stylish beads, and other jewelry designs
San Francisco, CA (Vocus/PRWEB) April 22, 2011
World famous for the bracelet and twist-on charm design, PANDORA jewelry is inviting shoppers at the Westfield San Francisco Centre to come view their unique designs, including the new spring collection. The San Francisco bead store is even offering a free ring holder with the purchase of $100 of any PANDORA merchandise from April 22 until May 8, 2011. Limit one per customer and while supplies last.
"Stop by the Westfield San Francisco Shopping Centre on the second floor to start your own elegant PANDORA collection of charm bracelets, stylish beads, and other jewelry designs," says Pat Lee, co-owner from the San Francisco location. "There's no better time to shop than when you can get rewards!"
The PANDORA San Francisco location has welcomed the spring season with many special offers. Recent special gifts have included a free set of silver post earrings from their Compose collection with the purchase of $50 of any PANDORA jewelry, and a free set of silver hoop earrings, also from their Compose collection, with the purchase of $75. More free gifts are sure to come as the season rolls on.
The offer of a free ring holder with $100 purchase of any PANDORA merchandise is good while supplies last, and limited to one per customer.
Each PANDORA piece is Danish designed, and many of their original jewelry designs are made of sterling silver and 14-karat gold and embellished with pearls and genuine stones such as diamonds and sapphire. Famous for innovative bracelet designs, a PANDORA charm bracelet is composed by selecting beads, making each charm bracelet different. The PANDORA concept allows customers to pick beads made of sterling silver and gold to create their own unique style.
For more information about PANDORA's gift with purchase offer or any of PANDORA San Francisco's products or promotions call them at (415) 655-1572, view them on the web at http://www.pandora-sfbay.com, or visit their store located at 845 Market Street; Suite 205 San Francisco, CA 94103.
About Pandora San Francisco
PANDORA is a universe of jewelry and an internationally recognized brand with origins in Denmark. They are known worldwide throughout the jewelry design community for elegant charm beads that twist on to a bracelet to create a personal and unique piece of elegant jewelry at an affordable price. Besides the famous charm beads, PANDORA located in the Westfield San Francisco Centre, offers PANDORA rings, necklaces, bracelets, watches and more. Come in and have a jewelry consultant help compose a beautiful charm bracelet that reflects life's special moments.
###