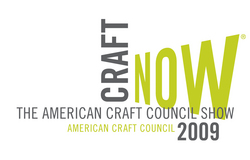 Atlanta (Vocus) February 23, 2009
AMALGAMarts, a collaborative art studio in Scottdale, is offering a series of demonstrations on the various aspects of jewelry making at the 2009 American Craft Council Show in Atlanta (March 13-15 at the Cobb Galleria Centre). These informative sessions address selected parts of the AMALGAM artists' custom jewelry-making process and will take place periodically on all three days of the Craft Show. 10,000 visitors are expected to attend the event, the largest of its kind in the Southeast.
Through each presentation the members of AMALGAMarts will demonstrate the jewelry-making process by showing how layers of depth and texture are added to works through roll printing and etching. Next, they will demonstrate how surface embellishments are made with patinas and keum-boo. Attendees can watch a solder-free chain grow before their eyes and witness earrings being forged from sheet and wire. Not only will artists demonstrate their craft on individual pieces, but components created using these techniques will be combined to create a piece of wearable art.
The schedule for AMALGAM demonstrations are as follows:

Friday, 1-3 p.m.: Patterns and Patinas with Kathryn Walker
Friday, 3-5 p.m.: Forged earrings with Wendy Tonsits
Saturday, 11-1 p.m.: Silver etching with Priscilla Fritsch and Kathryn Walker
Saturday, 1-3 p.m.: Creative stone setting with Brian Gibney
Saturday, 3-5 p.m.: Keum Boo with Priscilla Fritsch
Sunday, 10 a.m.-12 noon: Chain-making with Wendy Tonsits
Sunday, 12 noon-4 p.m.: Putting it all together -- Cold connections with Brian Gibney
The American Craft Council Show in Atlanta will take place on Friday and Saturday, March 13-14: 10 a.m.-6 p.m.; and Sunday, March 15: 10 a.m.-5 p.m. at the Cobb Galleria Centre. Regular admission is $12 for one day, $18 for a two-day pass and all three days' admission for $20. Children 12 and under are admitted free. American Craft Council members and those who join the non-profit organization at the show ($25 annual membership fee) are admitted free all weekend. To preview the show and to purchase tickets online, please visit: http://www.craftcouncil.org/atlanta .
Craft enthusiasts wanting an early opportunity to meet featured artists and buy their works before the show should plan to attend the Preview Party on Thursday, March 12 from 6 p.m. to 9 p.m. at the Cobb Galleria Centre. Tickets for the Preview Party are $75 each and can be purchased at CraftCouncil.org/Atlanta. Proceeds from the Preview Party jointly benefit the Boys and Girls Club of Metro Atlanta/Youth Art Connection and the American Craft Council.
For directions to Cobb Galleria Centre, visit: CobbGalleria.com. Free parking is available.
About the American Craft Council
The American Craft Council is a national, nonprofit public educational organization founded in 1943 by craft advocate Aileen Osborn Webb. The mission of the Council is to promote understanding and appreciation of contemporary American craft. Programs include the bimonthly magazine AMERICAN CRAFT, annual juried shows, the 2009 leadership conference, the Aileen Osborn Webb Awards honoring excellence, a specialized library, workshops and seminars.
###