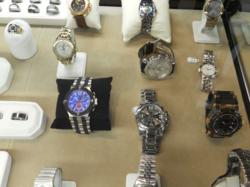 Having a website for our clients is crucial. With this new upgraded site, our customers will be able to follow us more effectively
San Jose, CA (Vocus/PRWEB) May 25, 2011
Gold Star Jewelers now features an upgraded website which allows for more details on the company's products and services. The goal of the upgraded website is to help the business communicate and serve clients better.
"Having a website for our clients is crucial. With this new upgraded site, our customers will be able to follow us more effectively," said Alex Kharmandaryan of Gold Star Jewelers.
Gold Star Jewelers has been in the jewelry business for more than 35 years, providing clients with the finest and most unique jewelry in San Jose.
Online clients can now enjoy the upgraded website with a complete listing of the jewelries and services offered by Gold Star Jewelers.
In addition to the fine jewelry offered for sale, Gold Star Jewelers offers repairs and exchanges. They sell watches, bracelets, earrings, necklaces, diamonds and differed-colored stones and also have an extensive collection for men. They also do wedding and engagement ring fittings at the store. Clients will receive a free fitting for a resize if they purchase the ring at the store.
Gold Star Jewelers has a dedicated staff with 35 years of experience in custom design. The customer is encouraged to be involved in every step of the design or layout of custom made jewelry.
For more information, call 408-217-0372, visit http://www.gsjewelers-sj.com or visit the store at 1387 Lincoln Avenue in San Jose.
About Gold Star Jewelers
Gold Star Jewelers is a jewelry store in San Jose. Open for more than 35 years, they buy, sell, and trade jewelry, and provide repairs. From men's and women's rings and watches to earrings, necklaces, diamonds and other stones, they carry just about any type of jewelry available.
Gold Star Jewelers is a diamond buyer, jewelry buyer and also buys gold, silver, platinum, stones, watches, much more.
###