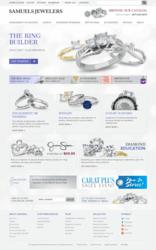 "Our goal is to educate our customer in the same way as if he/she were in our store," says Walter Eckhardt, Director of E-commerce for Samuels Jewelers.
Austin, TX (PRWEB) December 20, 2012
More than 120 years have passed since Jeweler Albert Samuels opened Samuels Jewelers in San Francisco, where he quickly became known as the 'House of Lucky Wedding Rings'. Turn of the century legend said that if you bought your wedding ring from Samuels, you would be married forever. Whether it's their bridal, diamond or fashion collections, they continue to design and craft exquisite jewelry to be unique, but affordable; trendsetting, yet timeless.
Still steeped in tradition, all the while committed to their customers' satisfaction, Samuels Jewelers, one of America's leading retailers of fine jewelry, has revamped their e-commerce site to provide customers with a virtual visit through a user-friendly and straightforward interface.
"Our goal is to educate our customer in the same way as if he/she were in our store," says Walter Eckhardt, Director of E-commerce for Samuels Jewelers. "These changes will better serve both online and offline customers, preserving a superior buying experience, regardless of where you are when making your selection and purchase."
Just in time to 'ring' in the New Year, online customers will see a more comprehensive showcase fitting of the elegant product line. Samuels Jewelers has even added many more products to the site that will be better viewed through clearer and larger images, including a huge new selection in the Promise Ring catgory.
The site also includes a Product Knowledge Center to answer customer questions and make sure all needs are met.
For buyers on the go, Samuels has added a new mobile site along with a store locator, for easy viewing on mobile devices. Upcoming plans include an online ring-builder which will allow customers to select everything from their diamond size and shape to the style of their mounting.
Samuels partnered with Plum Tree Group, a digital marketing and Magento specialist agency in Chicago to develop this new website which more closely mirrors the in-store experience. Social media platforms such as Facebook, Twitter, YouTube, and Pinterest, were also integrated.
"We want our e-commerce store to have the informative personal touch that our customers currently receive in all of our brick and mortar stores," said Walter Eckhardt. "The buying 'atmosphere' and options may have changed quite a bit from the experience at our original store on Market Street, but Albert Samuels' philosophy of exceptional customer service remains the same regardless of the platform."
Visit samuelsjewelers.com, samuelsdiamonds.com, rogers-jewelers.com, andrews-jewelers.com, or schubachjewelers.com to view the enhanced features, exclusive designs and exceptional values.
About Samuels Jewelers:
Samuels Jewelers has been serving jewelry customers since 1891. Our 100-year diamond tradition began in San Francisco, where Albert Samuels first opened his doors in 1891. The three story building on Market Street housed 40 jewelers who designed and skillfully created fine jewelry to exacting standards. The entire first floor showcased the results of their master craftsmanship. For more information, visit: http://samuelsjewelers.com.