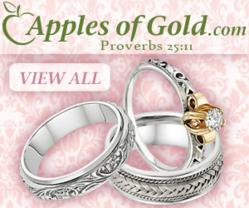 (PRWEB) March 20, 2012
Apples of Gold – Affiliate programs have increased in number and popularity in recent years and online jeweler Apples of Gold has taken a significant step to make sure that their Jewelry Affiliate program stands out as one that serves its affiliates well. Their recent hire of an Affiliate Manager will allow Apples of Gold to enhance and expand their existing program.
Afshin Yaghtin, CEO of Apples of Gold, explains that, "Having an Affiliate Manager is an immense improvement to Apples of Gold's Jewelry Affiliate Program," sharing that this addition to their staff will "find ways to help our existing affiliates increase their sales, while also recruiting new affiliates into the program." Anyone with a website or social network can become an affiliate and it's free and easy to join.
By including links to Apples of Gold's website on their personal websites, affiliates earn attractive commissions on items sold to visitors to their sites who click on these links and make a purchase from Apples of Gold, which specializes in fine gold jewelry. Commissions start at 7% of total sales; while the average sale is $500, some items sell for several thousand dollars, giving affiliates the potential to bring in a bit of serious dough. Individuals with blogs, wedding and fashion sites, consumer review sites and shopping comparison portals can often reap the greatest benefits from this program.
However, Apples of Gold's Affiliate Program isn't just about the numbers. As Yaghtin shares, "By providing new banners, weekly newsletters, best sellers' lists and communicating with our affiliates regularly, we hope to create an environment that is relational within our affiliate program." Apples of Gold's commitment to personal, exceptional customer service is exemplified in their Jewelry Affiliate Program, and by hiring an affiliate manager, this online jeweler is going one step further in serving their affiliates.
About Apples of Gold: Apples of Gold is an online jeweler with a focus on high quality, personal customer service, affordable pricing and business ethics beyond reproach. They're a self-described "small-business with a big heart" with a name derived from a biblical proverb. Apples of Gold specializes in fine gold jewelry, wedding rings, diamond jewelry and gemstone pieces, and carries a large selection of Christian jewelry and personalized pieces. Since the year 2000, they've offered top-notch jewelry at an average of 40 percent less than retail prices. For more information, visit applesofgold.com or follow Apples of Gold Jewelry on Facebook.