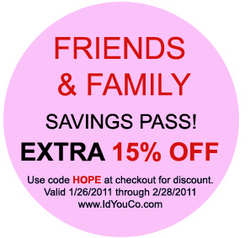 the gift that keeps on giving
Las Vegas, NV (PRWEB) February 3, 2011
ID You & Co.'s new website at IDYouCo.com developed by VegasTechGroup.com.
Buying jewelry online along with fashion accessories has never been easier with ID You & Co. IDYouCo.com is an exciting and unique online e-commerce store which sells sterling silver jewelry, personalized sterling silver, watches, hair accessories and other fantastic women's accessories. With each sale 18% of all proceeds are donated to one of three charities of your choosing when you make your first purchase.
ID You & Co. has partnered with Feeding America, Nothing But Nets, and The Lone Soldier Center charities. Feeding America is the nation's leading domestic hunger-relief charity. Their mission is to fee America's hungry through a nationwide network of member food banks and engage our country in the fight to end hunger. Nothing But Nets is a global, grassroots campaign to save lives by preventing malaria, a leading killer of children in Africa. The Lone Soldier Center is a charity dedicated to assisting a person who immigrated from Russia, Ethiopia, and the United States and many other countries who have come to live in Israel and are serving to protect Israel. The Lone Soldier Center charity will benefit from two teens, Brittany & Yoshua's Mitzvah Project, working together to make a special recreation room for the soldiers.
ID You & Co. works with an impressive line of women's clothing and accessories designers. ID You & Co. vendors include: Blee Inara, Deepa Gurnani, Echo, Honey House Naturals, Hot Sox, Jessie Steele, LA MER Collections, etc. just to name a few.
###