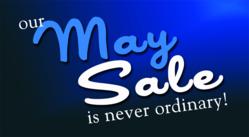 Pine Bluff, AR (PRWEB) May 09, 2013
Family-owned and operated, Sissy's Log Cabin is holding its only sale of the year throughout the month of May. Their entire inventory will be marked down 15-65 percent. Sissy's is known for the highest quality and most unique selection of jewelry, being named Best Jeweler in Arkansas Times. The annual May sale offers customers great prices on special unique items from vendors made especially for this once a year sale. The sale is running from April 27 to May 31.
With Mother's Day right around the corner, now is the perfect time for customers to come into one of Sissy's Log Cabin's three locations in Pine Bluff, Little Rock or Jonesboro. Despite certain items being excluded from the sale, there are countless options of rings, earrings, bracelets, necklaces, watches and other gift items. All of Sissy's lock boxes and safes have been cleared out and all pieces are now available in the stores.
There will be representatives available to discuss their 12-month, no-interest financing, which is also available. There is also an online credit application that can be accessed on their website to be approved even before coming to the store. Sissy's staff of friendly jewelers and accredited jewelry and sales professionals are always available to help customers. For more information and to see a preview of their selection, visit http://www.sissyslogcabin.com.
About the company:
Since 1970, Sissy's Log Cabin has been a family owned and operated jewelry store. They pride themselves on quality and customer service. Their staff of experienced professionals has received numerous awards on both the state and national levels. Sissy's Log Cabin has evolved into Arkansas' largest independently owned jewelry store with 12,000 square feet of showroom filled with diamonds, jewelry, estate jewelry, fine gifts and fabulous antiques. For more information on their locations, jewelry selection, and services, please visit: http://sissyslogcabin.com/.