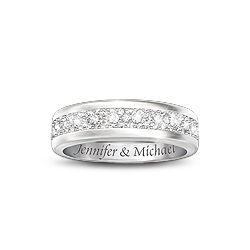 Exquisitely designed, this stunning women's eternity-style ring is handcrafted of solid sterling silver, set with 12 genuine diamonds in a glittering pave setting that encircles the top of the ring
Niles, IL (PRWEB) May 27, 2011
When it comes to romance, giving a dozen roses is a nice gesture, but they quickly fade. The Bradford Exchange Online offers a much better solution: a dozen diamonds, encircling the "Forever" diamond eternity-style ring with a message of love that will endure forever. To make this elegant, classically designed diamond couples ring even more romantic, it comes with the option to engrave two names inside the ring, absolutely free.
Exquisitely designed, this stunning women's eternity-style ring is handcrafted of solid sterling silver, set with 12 genuine diamonds in a glittering pave setting that encircles the top of the ring. As a wonderful extra feature that costs nothing extra, the two names of the loving couple are engraved inside the ring band, where they will be together forever. This engraved romantic ring is a gorgeous way to celebrate a lasting love, and the custom engraving makes it truly one-of-a-kind.
"What's especially romantic about this particular ring design," states on of The Bradford Exchange's jewelry product managers, "is that the names are engraved inside the ring, where only the giver of the ring or the woman who wears it will ever see them. The 12 gorgeous diamonds on the ring's surface make an elegant public statement all on their own, and then the two names inside the ring make a more private statement about a true love meant to last forever."
The Bradford Exchange Online offers not only this classic personalized diamond ring, but also a wide selection of other romantic fine jewelry that may be personalized for free with two engraved names. This customized jewelry is a unique way to send a loving message that is both precious and highly personal.
The Bradford Exchange Online offers one of the best jewelry guarantees in the e-commerce marketplace, providing returns for up to 120 days and FREE return shipping. Visit them at http://www.BradfordExchange.com.
###