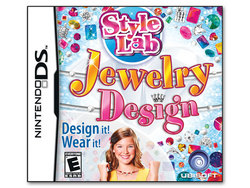 The capability to turn a virtual jewelry design into a physical piece of jewelry is a real breakthrough.
Gig Harbor, WA (PRWEB) November 19, 2009
Style Lab™ Jewelry Design, a new video game for Nintendo DS™ and Nintendo DSi™ allows girls to design a variety of jewelry pieces using a range of gorgeous colored beads and charms that are all based on actual items offered on http://www.artbeads.com. Using the DS stylus, girls can create earrings, necklaces, bracelets, cell-phone charms and bookmarks. Players can display their unique in-game creations by uploading their finished design on http://www.ubiworld.com, Ubisoft's online extension for the Style Lab video games. Players will have the option to order and purchase their finished design from Artbeads.com and own and wear their in-game jewelry creation in real life.
Artbeads.com has been a destination for beaders and crafts people on the Internet for the past 10 years where they have been able to purchase high-quality products and browse a Learning Center providing free jewelry designs and inspiration to create beautiful objects. Now Artbeads.com has taken this a step further and has worked with Ubisoft and game developer 1st Playable Productions to help provide the content necessary to make Style Lab™ Jewelry Design a successful new DS game targeting the aspiring young jewelry designer.
"The capability to turn a virtual jewelry design into a physical piece of jewelry is a real breakthrough," said Michael Hervieux, Artbeads.com Chief Operating Officer.
Artbeads.com worked closely with Ubisoft and 1st Playable Productions to select jewelry components and create templates that would ensure each player's custom design could be made into a quality piece of jewelry that closely matched their in-game design. With this innovation, players can now create custom wearable jewelry for themselves or to give to friends and relatives for a truly one-of-a-kind gift experience. They can even share these designs with others who might like to purchase them. The manufacturing of each jewelry design will occur at Artbeads.com's facility in Gig Harbor, Wash.
About Artbeads.com
Artbeads.com is a leading provider of beads and jewelry supplies for jewelry designers and the beading community. Artbeads.com caters to the quality-conscious designer with products like Swarovski crystal beads and the finest sterling silver beads, but also works vigorously to keep prices low. Thanks to Artbeads' buying power, those looking for wholesale beads are attracted by wholesale pricing discounts, no minimum order requirements and fast, free shipping anywhere in the US. With a vast Learning Center, Artbeads.com is also a popular destination for beginners looking for jewelry designs and tips on how to make jewelry.
About Ubisoft
Ubisoft is a leading producer, publisher and distributor of interactive entertainment products worldwide and has grown considerably through a strong and diversified line-up of products and partnerships. Ubisoft is present in 28 countries and has sales in more than 55 countries around the globe. It is committed to delivering high-quality, cutting-edge video game titles to consumers. For the 2008-09 fiscal year Ubisoft generated sales of 1.058 billion euros. To learn more, please visit http://www.ubisoftgroup.com.
© 2009 Ubisoft Entertainment. All Rights Reserved. Style Lab, Ubisoft, , and the Ubisoft logo are trademarks of Ubisoft Entertainment in the U.S. and/or other countries.
Nintendo DSi and Nintendo DS are trademarks of Nintendo. © 2009 Nintendo.
Game and real-life design each priced and sold separately. Jewelry piece must be ordered by a parent or guardian and may vary from actual in-game design. Jewelry piece is not a toy and is not suitable for children under three due to small parts.
###