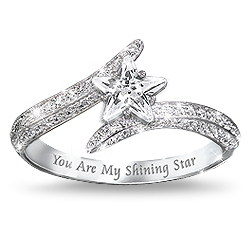 This striking daughter ring features a luminous, star-shaped simulated diamond as the sparkling centerpiece
Niles, IL (PRWEB) May 28, 2011
Stemming from the ideology that the brilliance of a treasured daughter outshines the brightest star in the sky, The Bradford Exchange introduces the My Daughter, You Are My Shining Star Engraved Ring. Sparkling with over a carat of Diamonesk simulated diamonds, this exclusive fine jewelry design serves as an impressive way to remind a special daughter of how much she is loved.
This striking daughter ring features a luminous, star-shaped simulated diamond as the sparkling centerpiece. The solid sterling silver band features a micro-pavé of individually hand-cut Diamonesk simulated diamonds closely set to create a shimmering galaxy of sparkle. The inside of the band is elegantly engraved with the message: "You Are My Shining Star", making this engraved ring for daughter as sentimental as it is stunning.
"Every daughter deserves a sparkling reminder of how much she is cherished," states one of The Bradford Exchange's jewelry product managers, "and we at The Bradford Exchange wanted to provide an affordable ring design not only appealing to the eye, but one that included a special message that the wearer could hold close to her heart. 'You Are My Shining Star' encompasses the love and support a proud parent wants to give to their daughter every day."
Diamonesk stones are created exclusively for The Bradford Exchange and rival the clarity and sparkle of the finest natural diamonds. Available in many stunning jewelry designs from The Bradford Exchange, Diamonesk stones allow people of almost any budget to surround themselves or a loved one in sophisticated elegance.
The Bradford Exchange not only offers this stunning Diamonesk ring gift for daughters, but also a wide variety of additional daughter gifts of jewelry, music boxes, figurines and other collectibles. Visit them at http://www.BradfordExchange.com.
###