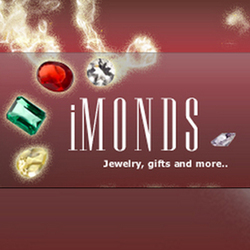 What sets us apart from competitors are our products themselves. First, they are hard to find in any other store
Columbus, OH (PRWEB) November 16, 2010
It took two years to develop the perfect platform for online jewelry and gifts iMonds.com. With an aim at surpassing the current standards in the rapidly growing online jewelry domain, the focus was on identifying the best quality suppliers, designing a user-friendly interface and offering an unbeatable value proposition to the customers. The store was recently launched for customers in U.S. and Canada offering over 2,000 exclusive gifts for any occasion i.e. birthday, anniversary, wedding, Valentine's or Christmas. iMonds.com separates itself from the competition by offering a unique combination of near wholesale prices, seamless user experience and outstanding quality products.
"What sets us apart from competitors are our products themselves. First, they are hard to find in any other store," says the co-owner of iMonds.com, Ankush Aggarwal. "Then it is the price: we offer high quality and up to three times lower prices than comparable stores."
The iMonds.com management team astutely realized that in today's economy the customers are looking for a high value purchase. To satisfy these customer needs the website offers several unique service offerings:

An extremely user friendly, easy to navigate and customer focused website with detailed information about the products.
Unbeatable prices backed by the iMonds Price Match Guarantee. iMonds.com promises to match any competitors price and offers customer an additional 10% discount on qualifying future purchase - Hassle free 30 day return policy. "We realize that buying jewelry online can be an intimidating experience for some of our customers. To provide them with additional peace of mind we have designed an industry leading return policy," says iMonds co-owner, Ankush Aggarwal.
Free shipping on qualifying purchases.
A look at iMonds.com inventory reveals a diverse product line that has something for everyone, every occasion and all budgets. Prices range from hundreds of gifts in the less than $100 gift category to higher end gifts in the $ 500- 1000 range. The online store caters to every occasion and has unique gifts for everyone, be it partner/spouse, child, mother, father, grandmother/grandfather, friend or colleague. There is a large selection of items made of diamonds, colored gemstones, white gold, rose gold, yellow gold and silver. The customer can choose between all kinds of bracelets, charms, earrings, pendants and rings.
"Charms are one of the unique products we sell. The customer can buy them for new born children, friends, and family members, simply anyone. Because of the huge selection we offer, the user truly can make a personality match," says Ankush Aggarwal.
There are more than 1,400 charms currently being offered with diamonds, gold and silver. The selection of shapes is also vast ranging from a love shaped diamond charm for the wife, a pendant with initials for a child's birthday and a gold or silver zodiac charm for a friend. The customers will definitely find it easy to locate the perfect match for them by browsing through the large selection of love charms, luck charms, flowers charms, music charms, numbers charms, religious charms and many more.
Another specialty of the store is NFL jewelry. It contains solid gold or stainless steel items of all national football teams, from the super bowl winning New Orleans Saints to the up and coming New York Jets. iMonds.com is eager to offer this jewelry delicacy to all football fans and therefore it does not matter what team they support, be it New York Giants, Indianapolis Colts, Washington Redskins, Chicago Bears or any other, they can find their jewelry at iMonds.com. The selection of items is vast. The customers can purchase their team's earrings, bracelets, key chains, money clips, pendants, discs with chain or double dog tag.
Looking ahead towards the thanksgiving and Christmas holiday season, iMonds.com has just launched several new products that cater to the needs of their unique holiday shopping customers:

A vast selection of colored gemstone earrings made from gold, diamond and precious stones, including citrine, topaz, amethyst and quartz.
Variety of white gold diamond hood earrings, precious stone earrings available in square, oval and heart shapes.
Gold disc medallion pendants, name pendants, horseshoe pendants, hugs and kisses pendant, sign for peace pendant and several other beautiful pendants made from white gold, rose gold, yellow gold and diamonds. For the budget conscious customers there are several pendants available in the under 100 dollar category.
Diamond and color stone bracelets made from white gold and yellow gold. Bracelets at iMonds.com is the perfect gift for any woman's wrist.
iMonds.com offers purchasing the breath taking jewelry in the very secure online environment. The customers can be sure that they are shopping at a secure and reliable place. Each product has certificate of quality and also the webpage itself passes security checks every day powered by McAfee SECURE* and other standard safety procedures.
About iMonds.com:
iMonds.com is a US Jewelry online store offering all kinds of bracelets, charms, earrings, pendants, rings and NFL jewelry. The idea for iMonds.com was born out of the entrepreneurial minds of a couple of ex-MBA students from top US colleges who saw a vacuum in the market for providing customers with an exquisite online jewelry shopping experience at an affordable price. The goal for iMonds.com is to make gift shopping and specifically jewelry shopping a seamless and pleasant experience. The fundamental tenets of the store are positive customer experience, favorable return policy, shipping every time on time, free shipping for purchases above $150, high quality and value for money. Currently, products are shipped only within USA and Canada.
# # #