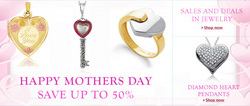 Every Mom deserves the best on Mother's Day. Visit Jewelry Affairs and shop for the perfect gift
Astoria, NY (PRWEB) April 25, 2011
JewelryAffairs.com today announced a special catalog discount for selected items. Effective as of April 25, 2011 until the 8th of May 2011 JewelryAffairs.com customers can take advantage of this great opportunity and shop the perfect jewelry present for loved ones.
Diamond heart pendants are always a success when it comes to Mother's Day gifts. Jewelry Affairs diamond experts and master jewelers guarantee that customers will have top quality diamonds and service. The only thing customers have to do is to choose the right pendant for that special one.
One more way to show appreciation and love to a mother or grandmother is by choosing through a wide catalog of gold lockets. Customer can save up to 40% by using a discount coupon and also by taking advantage of the free shipping option.
Mother's Day isn't just for one mother, but is a celebration of all mothers. This means grandmothers, but also the mother of your children. Show how much you appreciate her care-giving role, specifically - the thought won't go unnoticed. Jewelry Affairs customers can now celebrate motherhood and thank the one they love this Mother's Day with a very special gift that will leave her smiling with a beautiful pair of Gold Ball Stud Earrings.
Worried about not finding something elegant and affordable? Worry no more. Mothers or grandmothers will love a plain and simple chain necklace. Jewelry Affairs also offers a huge selection of 10k gold and 14k gold chains. Sale prices can reach even 50% off in their gold chain and silver chain catalog; just browse through the Gold Chain catalog and find the right one for her.
###