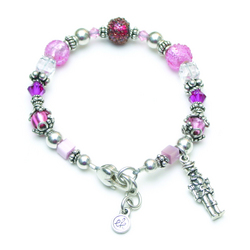 "Christmas means bling, but affordable bling."
Cohasset, MA (PRWEB) December 1, 2009
The buzzphrase for Holiday 2009 is "frugal fatigue," hopeful words retail jewelers are banking on for fourth quarter sales. Yet, Black Friday 2009 sales were flat from a year ago. Once stung, American consumers are nervous about opening their wallets and potentially losing control. Consumers clearly need a little Christmas, preferably a sparkly one, but they fear the debt Grinch in January.
So what's a reformed spendaholic nation to do? The answer may lie in companies such as the American jewelry company EK Designs based in Cohasset Massachusetts, where business is up 30% over fourth quarter 2008 available in stores nationwide. According to Elizabeth Kissick, owner of EK, jewelry stores are selling her affordable jewelry to bling-deprived shoppers in lieu of high-priced gems. Wary consumers are satisfying their cravings responsibly.
Kissick's retailers (numbering over 150 and growing) are telling her what they see and hear from Holiday 2009 bling shoppers. These shoppers are:
Setting a gift budget and tracking it.
"They are actually shopping with pencils in their hands," laughs Kissick. "So am I!" Banks large and small have offered this advice annually, and after the past rocky year, consumers are finally taking heed: track holiday spending. Just as a Weight Watchers dieters' success depends on tracking every bite, it works for spending too. That means writing down every budget bite and subtracting the cost from their budget as they go.
Being honest about the craving.
Yes, Virginia, shoppers are trying to be virtuous. But, loved ones do not really want a kitchen appliance from a mass market store. It's Christmas, for goodness sakes. Shoppers are buying within-reach luxuries, gifts that are truly satisfying. So, if the gift recipient loves chocolate, a celery stick will not do. According to Kissick, for holiday shoppers, "Christmas means bling, but affordable bling." Fine sterling jewelry from EK starts at $99 and rarely tops $175.
Seeking value, both financial and emotional.
Cluttered closets and loads of junk jewelry are so yesterday. Consumers are looking for what's real and lasts. Kissick credits this maturing shopper as a key to her line's upswing, "We don't do stretchy bracelets; it's real jewelry with durable-triple-stranded jewelry wire, top quality silver and authentic materials such as natural pearls, seaglass and handblown beads."
Value means emotional impact for the consumer's dollar, too. A recent VoiceQuilt report on National Trends in Gift Giving found a majority of holiday shoppers plan to focus on personal, inspiring gifts. Kissick's line, known as "jewelry with meaning" has always added value with little meaning cards to express a sentiment to the gift recipient. For patriots, the line has another emotional advantage: it's all made in America.
###