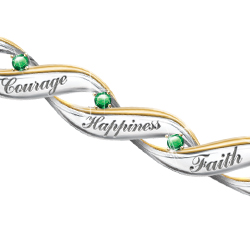 This Irish bracelet features sculpted links that are plated in sterling silver with 24K gold-plated accents, and it showcases 10 hand-set genuine emeralds between the links
Niles, IL (PRWEB) May 27, 2011
Celebrating the rich beauty, fascinating history and lush reward of the Emerald Isle, The Bradford Exchange announces the release of the Blessings of Ireland emerald bracelet, an exclusive fine jewelry design marked by heritage and artistry. Exquisitely crafted with contemporary style and elegance, this unique Irish bracelet arrives with a custom presentation case and gift box, making it an impressive gift or addition to one's own personal jewelry wardrobe.
The proud heritage of Ireland and the pastoral splendor of its countryside have long inspired poets, painters, and patriots who for centuries have proclaimed it to be their one true jewel. From Cork to Donegal, from Galway to Dublin, this verdant inspiration has prompted masterpiece works of art in every discipline throughout history. Even today, the muse-like qualities of the Emerald Isle have not diminished, as evidenced by this fine example of Irish jewelry.
In recent days, the market's interest in Irish jewelry and Irish gifts has surged, creating a demand that The Bradford Exchange is happy to greet with a remarkable expression of Irish pride. Their master artisans have flawlessly united the beauty of a fine jewelry design with the deep meaning of Irish history and heritage to create the Blessings of Ireland emerald bracelet.
This Irish bracelet features sculpted links that are plated in sterling silver with 24K gold-plated accents, and it showcases 10 hand-set genuine emeralds between the links. The 10 Irish blessings, of the title, are engraved across the length of the bracelet. Each one, including Luck, Loyalty, Friendship, Honor, Courage, Happiness, Faith, Health, Hope and Love is a testament to the legacy of Ireland. Finished with a distinctive Claddagh heart charm - the traditional Irish symbol of love, friendship and loyalty - it is the ultimate expression of the valued treasures unique to Ireland.
The Blessings of Ireland emerald bracelet is also backed by The Bradford Exchange's 120-day money-back guarantee, delivering shopping confidence to their customers that is incomparable.
In addition to the Blessings of Ireland emerald bracelet, many other Irish gifts and jewelry is available at The Bradford Exchange Online. Visit http://www.bradfordexchange.com to browse their unique designs today.
###