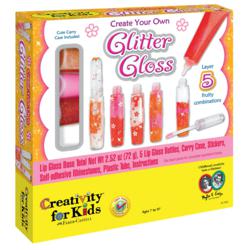 Cleveland, OH (Vocus/PRWEB) February 28, 2011
From creative projects for little kids to making jewelry and designing scrapbook pages, there's something for every child to enjoy with this selection of new craft kits from Creativity for Kids.
In the midst of winter, Creativity for Kids product developers are already thinking warmth and sunshine with the new Flip Flop Fashions and Fabulous Flowers Hair Accessories kits. Girls love flip flops and can decorate their own pair with Flip Flop Fashions. The kit includes two pairs – one small, one medium – for different size feet. Done in cheetah and zebra designs, add rhinestones, roses, ribbons, and other embellishments to reflect a personal style. Then step out and show off these great custom flip flops.
$21.99, age 5 & up
Fabulous Flowers Hair Accessories includes an assortment of materials to create 10 island-inspired hair accessories to wear and share with friends. Draw designs on the foam flowers with markers, then attach them to a headband, hair clips, and elastic pony tail holders. Add rhinestones, crystals, and glitter gel for sparkle.
$17.99, age 5 & up
Do a classic fabric project with Easy Embroidery Pretty Printed Purse. Learn to do simple embroidery stitches to make designs on a pretty canvas purse. There's an embroidery hoop, needle, and thread to help kids get started. Add rhinestones and then wear the purse out and about.
$19.99, age 7 & up, purse is 10" w x 17" h
Try this simplified version of a traditional craft. The Quick Knit Loom is simple to use. Simply wind the yarn around the tools. Then use the yarn loops to create fashion items. Kit includes 90 yards of yarn plus a large circle loom and two-sided hand loom. Add designer touches with the tassel maker and decorative buttons.
$19.99, age 7 & up
Pamper your puppy with Puppy Spa. This spa set includes a 6" plush puppy to treat to a spa experience complete with grooming bed, brush, comb, towel, and spa mask. Kids can decorate the cardboard spa setting with color-in stickers and markers. Then accessorize the pup in a crown, tutu, and pearl and rhinestone collar.
$19.99, age 4 & up
The Complete Tie Dye Kit lets kids who love to do tie dye create one-of-a-kind fashions.
Easy-squeeze bottles contain pre-measured dye to minimize the mess – just add water. There is also a craft apron, craft gloves, and table cover. Do tie dye on shirts, purses, and more. There's an XL t-shirt inside that kids can turn into other fun projects using the stencil, fabric marker, needle, and embroidery thread in the kit.
$24.99, age 7 & up
The newest Preschool kit is My First Dress-Up Doll Play Set. There are 2 cardboard dolls to dress and decorate with an extensive assortment of outfits. Use markers to color in the clothes and stickers – the pieces have hook & loop closures that are easy for little hands to do.
Then play and pretend in the playhouse setting.
$21.99, age 3 & up, dolls 9" h and playhouse 13 ½" h x 13 ½" w x 2 1/8" d
Classic wooden nesting dolls are newly interpreted with animal designs in the Playful Pets Nesting Dolls kit. There are 5 graduated sized nesting dolls to decorate with paint and rub-on stickers. Two brushes are included for medium strokes and fine details. Then enjoy stacking, playing, and displaying these playful pet dolls.
$16.99, age 6 & up, smallest doll 1 1/8" h and largest doll 4 ¾" h
Girls will like the two new jewelry kits, plus there's a new jewelry box to make to hold special pieces. Design necklaces that pop with Pop-Art Necklaces and More. Use the mini markers to color-in stickers for the super bright bottle caps to make charms for each necklace. Add the clear Opti-domes so the designs pop! Place the bottle caps on metal chains or satin cord. Add bright beads too. Make necklaces, bracelets, key chains and more. Nice project to do with friends.
$12.99, age 5 & up
Girls can make 10 delicate wishing charm necklaces for themselves and their friends to wear with Best Wishes Jewelry. The high quality charms come in 5 designs: heart, peace sign, clover, wishbone, and key. Add the charms along with satin beads to satin cord that can be knotted a variety of ways for different styles. Write a secret wish on the sheets included, roll up, and seal it with a sticker and then tuck into the sheer gift bag.
$17.99, age 7 & up
Make a Mosaic Heart Box to hold special jewelry items. Turn a heart-shaped jewelry box into a mosaic masterpiece using prettily colored acrylic stones and craft glue. Add glitter grout for sparkle between the tiles. Then place jewelry inside the velvet-lined box for safe keeping in a bedroom.
$17.99, age 7 & up
Best Friends Scrapbook lets kids and their BFF enjoy doing scrap booking together. This complete set comes with 2 scrapbooks, so each child can design their own book to preserve photographs and memories of fun times together. Each scrapbook has 10 pages – use the patterned paper, glitter stickers, ribbons, rhinestones, and fabric flowers to design 20 personalized layouts. Scissors, stencils, and a journal pen also included.
$29.99, age 7 & up
The ever popular Make Your Own Lip Balm kit now has a glossy companion, Create Your Own Glitter Gloss. Layer the fruit-flavored gloss into 5 tubes to create glittery treats for the lips. Then decorate the tubes and bonus carrying case with stickers and gemstone accents. Fun to do with friends.
$24.99, age 7 & up
All Creativity for Kids products are fully compliant with current U.S. toy safety standards.
2011 is a milestone year for our company as we celebrate 35 years of Creativity for Kids! We are proud to consistently provide a quality experience in all areas of business, particularly in developing innovative, high quality arts & crafts products for children. Our products are available all over the world, giving children the opportunity to create, pretend, and play in ways that encourage self-expression and build self-esteem.
###