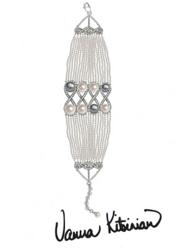 Kitsinian describes the inspiration for the bracelet as "intertwined harmony."
Los Angeles, California (PRWEB) April 24, 2013
Vanna Kitsinian, a California-based jewelry designer, has made public a rare sketch of one of her original jewelry designs. Kitsinian's company, Vanna K, is known for its unique, vintage-inspired designs, and the piece featured in the sketch is no exception. The sketch can be viewed on the Vanna K blog at http://blog.vannak.com. The image in the blog can be clicked for a much larger view of the intricate design.
The sketch is of a vintage-style seed pearl bracelet. It is an interesting study to see the original sketch and how the final, finished product evolved from its beginnings. In order to transform Kitsinian's designs into hand-crafted reality, Vanna K employs the highest skilled artisans at its Los Angeles studios.
Kitsinian describes the inspiration for the bracelet as "intertwined harmony," and her design is intended to offer a sense of serenity. The bracelet is adorned with South Sea graduated pearls, diamonds and woven hand crafted 18K gold.
The bracelet featured in the sketch will be on display at the Vanna K exhibit at the JCK Las Vegas show, which takes place in Las Vegas, Nevada from May 31st to June 3rd. JCK Las Vegas is the leading jewelry show in North America and is attended by designers and jewelry professionals from all over the country.
About Vanna K
Vanna K is the crowned queen of unique micro pave setting diamond engagement rings. Inspired by femininity and art deco design, Vanna K's unique engagement rings and custom jewelry represent timeless elegance. Vanna K is all about fulfilling a woman's desires - her desire to feel beautiful, delicate, and loved. If you are looking for a timeless unique diamond engagement ring or just something to make you feel beautiful, look no further than Vanna K.