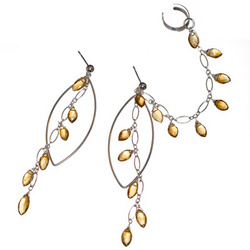 This is art for your ears
Palo Alto, CA (PRWEB) June 16, 2010
For women who want the best in uncommon designs with high quality materials and craftsmanship, Elena Adams Designs announces the expansion of the popular Slave Earring collection to include more semi-precious and precious gemstones.
California artist, Elena Adams has always been passionate about updating the looks of traditional techniques and designs, and has found a way to tackle this old favorite with care and craftsmanship that makes them a pleasure to wear. While typically seen as wild-child wear, these gemstone designs take on girlish charm when paired with sundresses, and are sharply stylish with jeans and a blazer.
"I've always loved the idea of body jewelry; that one can drip with jewels, but the offering has always been predominantly base metal and glass," said Elena Adams. "I wanted to create a collection that appealed to the modern woman, which could move beyond craft-fair fun to timeless, heirloom-quality jewelry. This is art for your ears."
Each gemstone is selected by hand with its metaphysical meanings in mind, and every design is created in studio using sterling silver. The collection includes popular gems such as citrine, amethyst and garnet, and now includes specialty gemstones like ruby, sapphire and tourmaline.
The term "slave earring" comes from the idea of chaining two things together. A stud at the ear lobe is connected via a chain to the top of the ear cartilage with either a non-piercing cuff or a second stud. Popular during the punk era, they are often referred to as multiple-piercing earrings or Bajoran earrings. Similar jewelry items are slave bracelets and slave anklets.
The Slave Earring collection is available exclusively at http://www.elena-adams.com
About Elena Adams Designs:
Elena Adams has been creating custom and one-of-a-kind jewelry for nearly ten years, and believes that timeless jewelry should be a part of every woman's collection. Specializing in chain maille, Elena Adams strives to maintain the classic appeal of this ancient technique, while updating it for the modern woman, using gemstones and sterling silver to create richly feminine treasures that will last a lifetime.
# # #