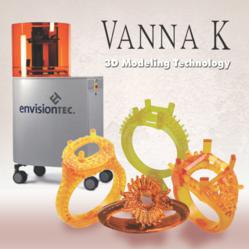 This allows us the opportunity to create intricate vintage inspired styling.
Los Angeles, California (PRWEB) May 20, 2013
Jewelry maker Vanna Kitsinian has always been known for the extraordinary quality of her unique, vintage-inspired, award-winning diamond engagement rings. What is not as well known is the advanced technology used in the manufacturing of her rings. Kitsinian's company, Vanna K, is located in a 30 thousand square foot facility in Lake Balboa equipped with the finest ring making equipment. That is why it is no surprise that Vanna K would introduce EnvisionTEC technology to its jewelry-making process. The EnvisionTEC 3D printer is leading the market in multiple jewelry industry verticals.
Designed to be used with 3D CAD systems, the EnvisionTEC machine utilizes extremely reliable digital micro mirror device technology from Texas Instruments. This technology gives Kitsinian the ability to dream up the most incredible designs, knowing that the artisans she employs have the tools to create remarkably intricate pieces.
It also gives the company the ability to make the designs faster, using resin moldings and models in its direct vacuum pressurized casting process, thus excluding imperfections caused by basic wax moldings. This advancement in jewelry manufacturing makes it the perfect choice for micro pave or invisible diamond settings.
"The venture into this technology is the perfect timing for us here at Vanna K Bridal and Fashion Jewelry," said Arch Kitsinian, President of Sales and Marketing. "It gives our diamond setters better quality castings during the microscopic diamond setting process, for a more secure and accurate precision micro pave setting. This allows us the opportunity to create intricate vintage inspired styling for our artisans sitting on the jewelers bench."
Vanna K even gives its customers the opportunity to take advantage of the new technology by customizing their own pieces. Visit http://www.vannak.com to learn more.