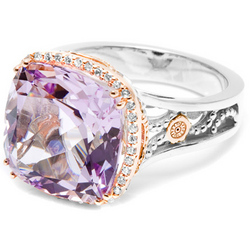 New York, NY (PRWEB) December 9, 2009
The brand new 18K925 sterling and 18k gold jewelry line by Tacori is at the top of every girl's list this holiday season.
Top Ten Tacori 18k925 Jewelry Pieces
Tacori brings their signature crescent silhouette design into fine jewelry, fashioning elegant bracelets, necklaces, earrings and more. The brand new Tacori jewelry line is at the top of every girl's list this holiday season! We hope you enjoy!
1. Tacori 18k925 Rose Amethyst Diamond Ring - $1100
Structural crescent designs in glossy .925 silver form the contours of this vibrant, blushing Rose Amethyst ring. Blushing 18k rose gold and glittering diamonds frame the cushion-cut shape for a fantasy fusion of subtle sophistication and modern design.
2. Tacori 18k925 Prasiolite & Amethyst Earrings - $940
Dazzling elongated pear-shaped rose amethyst and round prasiolite unite in fabulous 18k rose gold bold drop earrings for a look of playfully illuminating color and fashion-forward design.
3. Tacori 18k925 Smokey Quartz & Diamond Pendant - $1520
A pendant of deep faceted Smokey Quartz is accentuated by a diamond crescent 18k rose gold frame. With a luxurious cushion-like shape and eye-catching details, this pendant suspends on a rose gold bezel from a .925 silver link chain.
4. Tacori 18k925 Multi-Color Sterling Bracelet - $770
Faceted candy-drop gems in saffron Lemon Quartz, honeyed Cognac Quartz, seafoam Prasiolite, Smokey Quartz and deep Rose Amethyst flutter in pronged blossom kaleidoscope circlets, fastened into strands of luxe swoops of .925 silver with an 18k gold Tacori seal toggle.
5. Tacori 18k925 38" Open Link Chain Necklace - $1330
There's about a million ways to wear this gorgeous chain with signature Tacori details. Rich 18k gold accents cool .925 sterling silver interlock into a breezy open-link chain with crescent designs decorating each and every link. Absolutely stunning on its own, this piece can be worn as a lariat or longer chain, with a single pendant or many. It is fastened with the 18k golden Tacori seal toggle.
6. Tacori 18k925 Lemon Quartz & Neolite Diamond Earrings - $910
Translucent faceted Lemon Quartz over bright Neolite Turquoise gives these plush studs an awe-inspiring, Pop-art glow. Diamonds accent crescents in a rich, 18k gold frame, evoking a dramatic, multidimensional, cushion-like look.
7. Tacori 18k925 Chalcedony Drop Earrings - $350
Faceted powder-blue chalcedony is the focus in these icy drop earrings, suspended in a high-polished frame of crescent-designed .925 silver, with warm-hued yellow gold giving two-tone glamour to a rich fusion of the contemporary and classic.
8. Tacori 18k925 Oval Link Drop Earrings - $580
Cascades of chains decorate these drop earrings, with crescent designs on elegant oval graduating links of sterling .925 silver and rich 18k gold meet in a delightful cascade with contemporary design elements.
9. Tacori 18k925 Neolite Turquoise Ring - $720
Transparent Quartz over Neolite Turquoise makes this strong statement of style an absolute marvel in "Barbados" blue. Layered gemstones create a dazzling, multidimensional look, framed in rich 18k yellow gold with sculptural crescent-woven side details.
10. Tacori 18k925 Rose Amethyst Drop Earrings - $510
Cotton-candy mingles with violet shades, romance with sophistication, on faceted oval-shaped Rose Amethysts. Surrounded by 18k rose gold fantasy-crescent frames, dazzling details create a delightfully feminine droplet style.
View the entire Tacori 18k925 Jewelry Collection At Since1910.
About Since1910
Since1910 is a 5th generation, family owned jewelry store, founded in the year 1910. With over 100 years of diamond experience and expert guidance, Since1910 is your trusted source for high end jewelry on the web.
Since1910 is a GOLD Tacori Dealer and represents many other designer brands including; Scott Kay, Martin Flyer, Henri Daussi, Jeff Cooper, Diana, ArtCarved, Precision Set, Roberto Coin, Oris, Tag Heuer, Michelle Watches and more.
###