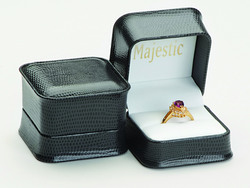 Never Run Out Of Boxes Again
Pawtucket, RI (Vocus) May 6, 2010
Presentation Box & Display (Pres Box), a division of International Packaging Corporation, has come up with a unique solution to help retail jewelers free up their cash flow. Pres Box takes on the responsibility of vendor managed inventory with their unique Blanket Order Program. The jeweler only pays for boxes and pouches when they need them.
Here's how it works:
1. Pres Box works with a retailer to estimate how many boxes they will use this year.
2. The retailer qualifies with as few as 24 dozen boxes (288 boxes … less than 6 per week).
3. The retailer orders their jewelry boxes for 2010 and Pres Box imprints them and stores them.
4. The retailer releases their boxes as they need them throughout the year.
5. The retailer only pays for the boxes when they take delivery.
6. Retailers must take delivery of all blanket order items by December 22, 2010.
7. The Blanket Order Program saves jewelry retailers time, space, and money.
Jewelry retailers never have to wait for their boxes again, because their boxes are waiting in safe, dry storage at Pres Box.
The Presentation Box Guarantee to Retail Jewelers: "Never Run Out Of Boxes Again"
"We find that many jewelry retailers benefit by taking advantage of our Blanket Order Program. It helps them reduce their storage space requirements for packaging and they never run out of boxes," states Belinda Duva, National Accounts Manager. Most jewelry retailers know that their very survival hinges on managing cash flow. Indeed, the SBA (Small Business Administration) in its FAQ section (http://web.sba.gov/faqs/faqindex.cfm?areaID=24), observes that 'seven out of ten new employer firms last at least two years but only about half survive for five years.' John Cavanagh, Vice-President of Pres Box adds, "Cash flow is king, particularly with small businesses. We help the jewelry retailers pay for their boxes only when they need them. Helping jewelry retailers with their cash flow is an important part of partnering with our customers."
A study on 'Understanding and Controlling Cash Flow' from the U.S. Small Business Administration by Professor Ramni Maysami was published in May of 2009 about a study of small business cash flow.
For further information on the Blanket Order Program, please visit – http://www.presbox.com or call 1-800-556-7390.
###