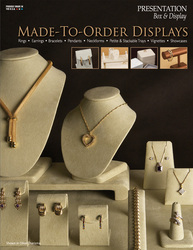 With this new catalog, we finally have the perfect solution for our customer's custom display needs
Pawtucket RI (Vocus) September 28, 2010
Presentation Box & Display (Pres Box) a division of International Packaging, has a brand new catalog of domestically made jewelry displays. This catalog features a wide variety of display elements to meet the retail jewelers every need, such as: Rings, Earrings, Bracelets, and Necklaces.
Pres Box now offers the retail jeweler displays made in one's choice of materials and colors to match the store's décor. Now the jewelry retailer can design their showcases to complement the color of their store and maximize the presentation to their customers.
The new Made-To-Order Jewelry Display Catalog also features a full line of Jewelry Trays, all customized in one's choice of materials and colors. The Petite Jewelry Trays are a smaller sized tray that provides more space in the showcase and allows more emphasis on the merchandise. They are angled toward the customer for an improved presentation. The Stackable Jewelry Trays save valuable time and money everyday during setup and storage with the convenient stackable feature on the bottom of each tray. They are easily stacked and stored in one's safe overnight and come with a removable card to angle the tray towards the customer.
Pres Box has taken the worry and work out of showcase design for the jewelry retailer with their pre-designed Display Vignettes and Showcase Display Sets. These sets are designed to highlight the jewelry in a retailer's showcase. There are separate layouts for Rings, Earring/Pendants, and Mixed Jewelry. All of Pres Box's Display Vignette's are designed to work well in windows, or in museum style showcases, and the Showcase Sets can be used in all 4 – 6 foot showcase layouts. The jewelry retailer can choose the exact color(s) they want.
"With this new catalog, we finally have the perfect solution for our customer's custom display needs," states Belinda Duva, National Accounts Manager, "providing our customers with Made-To-Order displays enhances their market appeal and they do not need to wait for overseas production."
"Our retail jewelry customers want to have their own look and feel for their store," adds John Cavanagh, Vice-President of Pres Box, "this catalog provides them with everything they need for their displays in just 4 – 6 weeks with the colors and textures they want."
For further information on Presentation Box & Display's new Made-To-Order Catalog call 1-800-556-7390.
# # #