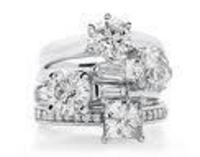 the number of sales for diamonds is consistent
Redwood City, CA (PRWEB) June 17, 2010
June is the month of weddings, which also makes it the month of anniversaries. JewelryMall.com, online information source of jewelry and jewelry retailers, announces that promotions from their vendors are on the rise this month.
"It's June, and love is in the air!" states Jewelry Mall owner Lorraine Venner. "I see the promotions my vendors are offering. Although they vary from day to day, the number of sales for diamonds is consistent."
The number of weddings in the US nosedived from 2007 to 2008 at a rate of 1.6%, according to provisional data from the Center for Disease Control. However, that number is increasing; the same data shows that from 2008 to 2009, the number of weddings increased by nearly 1%.
"We believe that couples are gaining hope as the economy stabilizes," says Ms. Venner, "and they are ready to put their money back into wedding engagement rings. Vendors are not only responding with attractive offers for engagement rings, but for wedding anniversary rings as well."
The 2009 The Knot Real Weddings Survey, by which the premier media company captures key information related to bridal party spending, shows that they average cost of an engagement ring in 2009 was $5,487.
Ms. Venner says that her website sees an increased number of hits for wedding anniversary rings in June. One of the most popular anniversary rings is the eternity band, with 15 diamonds channel-set in gold or platinum. Ms. Venner views it as the go-to jewelry gift that a partner purchases for vow renewals and anniversaries.
"Our anniversary rings section has some popular ideas to create a personalized jewelry gift, and we're pleased to offer the little touches that help to make the moment special. June is the month to buy diamond rings," she states. "Many of our vendors focus on diamond rings, and with the cost of wedding engagement rings, their promotions must be taken advantage of."
For more information, please visit http://www.jewelrymall.com.
About Us:
JewelryMall.com was founded in 1995 as the online destination for making jewelry shopping and jewelry gift ideas very easy. We offer information on jewelry making, lots of jewelry buying tips and care information, as well as ways to personalize your gifts with sayings, poems, jokes, or lore. We want people to be able to create personalized jewelry gifts to remember.
###