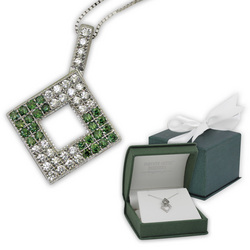 we have found an affordable way to offer colored diamonds in fashion forward designs which helps our customers set themselves apart from big box stores, still offering popular price points, and making good profits
Saint Paul, MN (Vocus) December 1, 2009
Until recently, colored diamonds costing literally millions of dollars per carat were reserved for the super-rich and celebrities. Esslinger and Company now brings these rare color diamonds to customers in suggested retail price points ranging from $200 to $1400.
Advances in diamond treatments have made these extraordinary diamonds more affordable in vivid colors that are as everlasting as the diamond itself. Similar in hue, tone and saturation to their more costly counterparts, price-point friendly treated color diamonds run the gamut black, blue, yellow and green colors to natural browns.
Since 2002, Minneapolis-based Esslinger Company has been an industry leader in supplying Independent fine jewelers across the country with affordable 14 karat and now 10 karat white gold jewelry set with colored diamonds. With five colored diamond jewelry collections featuring 30-plus designs each, there are hundreds of styles to choose from for birthdays, anniversaries, Christmas, Mother's Day, Valentine's Day or any gift-giving occasion when jewelry is appropriate.
Each of the five color diamond collections include designs ranging from fashion-forward geometrics to traditional heart motifs. De Beers-inspired three-stone and "journey" designs (jewelry set with diamonds in graduated sizes) and wholesale color diamond jewelry accentuated with cultured freshwater pearls, are designs commonly found in these color diamond collections. All white diamonds used in these earring, pendant and ring designs are G-H in color, which add contrast and brilliance to each finished piece of jewelry.
Forever Green Diamonds™ is the latest offering of colored diamonds. Based on a theme of a loves that grows forever, floral and other nature-inspired designs are an integral part of this new color diamond collection. Unique to this collection are contrasting diamond designs that go from white to deep green, demonstrating opulent look. When asked about the new jewelry line and how it has been received by independent retail jewelers, Company CEO Mark Esslinger said "we have found an affordable way to offer colored diamonds in fashion forward designs which helps our customers set themselves apart from big box stores, still offering popular price points, and making good profits"
Popularized by Hollywood starlets at red carpet events, consumers are looking for the ultimate in individualized styling that combines the rarity of diamonds with the personality of color. Diamonds come in many colors and developing treatment methods to economically bring more diamond colors to the market is fueling consumer demand for jewelry that offers individuals a distinctive and defining look. Leading gem and jewelry industry trend watchers agree that colored diamond jewelry is part of a growing bridal trend, which is influencing other sectors of the buying public with colorful alternatives to traditional white diamonds.
These ready to order designs can be viewed in our latest holiday catalog or online where retail jewelers can register for a wholesale account to order online at esslinger.com.
Esslinger and Company is a wholesale jewelry supply company with over 80 years in business. Our focus has been on helping independent retail jewelers succeed in business by providing helpful marketing materials, new jewelry concepts, jewelry making tools, jewelry supplies, jewelry findings, diamonds and gemstones.
Forever Green Diamonds™ is a registered trademark of Esslinger and Company
###