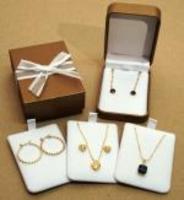 Jewelry boxes with Multi-Use Pads also provide the jeweler with more freedom to respond to market conditions
Pawtucket, RI (Vocus) June 9, 2010
Presentation Box & Display (Pres Box), a division of International Packaging Corporation, has developed a Multi-Use Pad for jewelry boxes.
Each pad is capable of holding many different kinds of jewelry… studs, hoops, drops, pendants, sets, pins, cufflinks, charms, and more… so the jeweler only needs one box.
The backside of the pads have a series of conveniently pre-punched holes and slits. These holes are only punched through the back and inside cardboard and are invisible to the front side of the pad. The jewelry retailer simply pushes through the holes from the backside to accommodate the particular piece of jewelry they are selling. Each pad comes with two free jewelry tie-down wires to attach some jewelry pieces as needed. The innovative Multi-Use Pads enable jewelers to always have the correct box for their jewelry and to avoid having to stock multiple boxes and inserts.
"Jewelry boxes with Multi-Use Pads also provide the jeweler with more freedom to respond to market conditions," noted Belinda Duva, National Accounts Manager. "Now they can easily shift packaging to accommodate Hoop Earrings, Studs, or Pendants."
This reduces the amount of packaging inventory that jewelry retailers must keep on their shelves.
Multi-Use Jewelry Boxes makes sense in these economic times, where every jeweler is looking for ways to improve their efficiency, reduce their inventory, and please the customer.
John Cavanagh, Vice-President of Pres Box adds, "Our jewelry retail customers really like the Multi-Use concept. They always have the right package for the best presentation to their customer,
and they love not having to stock so many different styles of boxes. This decreases their inventory overhead and improves their cash flow – something all successful businesses wish to do."
For further information on Jewelry Boxes with Multi-Use Pads, please visit – http://www.JewelryPackaging.com or call 1-800-556-7390.
###