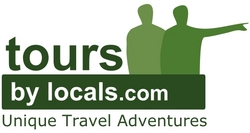 experience the Jewish heritage of Budapest through authentic Jewish eyes.
Vancouver, Canada (Vocus) July 17, 2010
Jewish travelers looking to enrich their travel plans with meaningful heritage and history-based tours are discovering the valuable service ToursByLocals provides. The Vancouver-based travel company contracts independent guides from over 85 countries to provide individuals and small groups with unique private tours. The company's Jewish-focused tours are enjoying a surge in popularity.
In addition to offering the more common biblical tours through Jerusalem and the Holy Land, ToursByLocals offers a host of other options, making it easy for travelers to experience Jewish culture, gain a better understanding of the past, and trace their own Jewish roots everywhere from India to Denmark.
In St. Petersburg travelers can enjoy a private tour of the new state-of-the-art YESOD Jewish Cultural Center – one of the largest Jewish buildings in Russia – and meet a member of the local Jewish community who enjoys speaking with travelers. Travelers can also visit the Grand Choral Synagogue for Shabbat; the stunning 19th century grand synagogue is recognised as the heart and soul of St. Petersburg's Jewish community.
For travelers thinking of heading Down Under, ToursByLocals offers a Jewish heritage tour in Sydney, Australia. Of course it's the iconic sails of Sydney's opera house and its beaches teeming with surfers that most people associate with this Olympic-host city. But Sydney's strong immigrant past has yielded suburbs rich in Jewish history and culture. Suanne, a local guide and resident born of European immigrant parents, has a five star rating from travelers who have taken her tours of the city.
In Budapest, local guide Andrea promises to help travelers "experience the Jewish heritage of Budapest through authentic Jewish eyes." Andrea's parents survived the Holocaust and she enriches her heritage tours of the city with her own family history. A tour with Andrea includes a walk through Budapest's old Jewish quarter, a visit to the Dohany Street Synagogue – the largest synagogue in Europe – and several important WWII memorials to the Jewish community.
ToursByLocals has its largest concentration of Jewish tours throughout Eastern Europe, with tours in the Polish cities of Kracow and Warsaw. In Gdansk, tour guide Margaret will show you the Jewish Heritage of that city and take you on a tour to the Stuttof Concentration Camp. The company has Jewish Heritage tour in the Czech Republic, Ukraine and Germany. And even in Scandinavia, it is possible for interested travelers to delve into the history of Jewish communities – for instance in Copenhagen, where Jews were settling as early as the 17th century and became an integral part of the city's development. Or in Istanbul, where Jewish immigrants in the 15th century developed their own tongue: Ladino - a mix of Hebrew, Spanish and Turkish.
Travelers heading to Asia may be interested in a tour of one of the world's oldest Jewish settlements outside the Middle East. At the southern tip of India lies the state of Kerala, where an ancient tribe known as the Malabar Jews emigrated from Palestine as early as 70 A.D. They are an extremely marginal presence today, but relics of their ancient history remain around Fort Cochin and Mattancherry.
Following the ToursByLocals principle of flexibility and individuality, all guides are happy to customize their private tours to reflect the clients' personal travel interests.
About ToursByLocals
Launched in November 2008, Vancouver-based ToursByLocals connects travelers with local guides. Using internet technology, the company help travelers make a secure connection and transaction with knowledgeable local guides in any part of the world.
ToursByLocals is committed to promoting ethical tourism. By growing a global network of independent tour guides, ToursByLocals empowers these individuals to be in business for themselves, while giving travelers a more authentic experience of local culture.
Travelers who want to travel in a socially responsible way now have the option of hiring one of 700 independent local guides in over 85 countries (and growing) through the company's website at ToursByLocals.com.
# # #