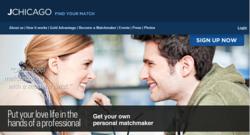 They get all the benefits of an online dating service, but with the invaluable addition of a truly personalized service
Chicago, IL (PRWEB) August 24, 2012
There will be more love happening for Chicago Jewish Singles, due to the launch of a new Jewish dating service JChicago.com. The service is launching on August 25th to help connect Jewish singles in Chicago and find meaningful relationships.
With over 25,000 Jewish singles between ages 20-39 in the Chicago area, there is a need for a dating service to be created to focus on the local singles. Rabbi Yosef Moscowitz (Director of The Living Room in Bucktown) is spearheading this project after his success in organizing numerous successful parties (like the famed Wicker Purim). He also facilitated many matches and personally helped singles during their dating experience. He understands that a matchmaking service that offers a personalized touch makes a real difference but also wants to create a service that could efficiently service thousands of singles in Chicago.
The JChicago service will be different from a typical dating website, as it combines online profiles with the personalized touch of a matchmaker. The human element of hands-on expert matchmaking with the convenience, ease and real-time of the Internet ensures quality matches, and saves members time browsing. The site is designed so that technology hones in on corresponding dating specifications, and experienced matchmakers then review the more subtle personality and compatibility aspects of the match before members' profiles are shown to each other. The JChicago matchmakers give phone consultations to their members to understand their dating needs, and are available throughout the dating process for guidance and support as requested by the members.
Head JChicago Matchmaker Ammi Field Dorevitch (former Executive Director of Hillels around Chicago: Multi Campus Center and Administrative Director of Chicago's Jewish Education Team) sees this model as the ideal choice for Jewish singles. "They get all the benefits of an online dating service, but with the invaluable addition of a truly personalized service."
For Rabbi Moscowitz, the goal for this service is to help Jews marry Jews, catering to Jews of all levels of observance. "We are here to help all Chicago Jewish singles form quality relationships in the most efficient way possible," says Rabbi Moscowitz. His well respected wife Sara will also be a matchmaker on JChicago.
JChicago partners with JRetroMatch.com, for the use of their unique matching technology and caters specifically to the Chicago community with Chicago-based matchmakers. With 1,500+ members married through the JRetroMatch model, there is proven success, and this technology has been used to launch similar sites to JChicago in other cities across the USA and Canada. These sites have also had great success and the singles are really benefitting from this refreshing new style of online dating.
JChicago will also be organizing events for their members, to provide another way for them to meet and get to know each other.
About JChicago
JChicago is an online Jewish dating service where local Jewish matchmakers, with the help of Advanced Computer Algorithms, assist Jewish singles of all backgrounds and observance levels with finding love and meaningful relationships. JChicago is a community wide project led up by The Living Room, and is in partnership with JCC's Kehilla, Hillel of Loyola, Chabad on Campus, Birthright NEXT Chicago, Club1948, FREE of Chicago, and Anshe Shalom B'nai Yisrael Congregation.