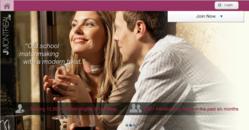 Following the successful launch of JRetroMatch partner sites in other geographical locations, JMontreal will be launched to service Jewish singles in Montreal
New York, NY (PRWEB) March 27, 2012
JRetroMatch.com and JMontreal.com are thrilled to announce that they will be joining forces in Jewish matchmaking. Following the successful launch of JRetroMatch partner sites in other geographical locations, JMontreal will be launched to service Jewish singles in Montreal on March 28th.
With over 20,000 Jewish singles between ages 20-39 in the Montreal area, there was a need for a dating service to be created focus on the local singles. Rabbi Yisroel Bernath (co-director of Chabad NDG and Loyota Campus) spearheaded this project after his success in making many matches in his community, resulting in 18 marriages to date. He saw that the personalized touch made a real difference to the quality of the suggestions, and wanted to create a service that could efficiently service thousands of singles in Montreal. JRetroMatch, therefore made the ideal partnership, as it already has phenomenal success in the USA, with 1500+ Jewish singles married as a result.
Like JRetroMatch, JMontreal uses matchmaking in tandem with its unique matching technology to send its members quality matches from their extensive database of profiles. A key benefit to JMontreal, is that the matchmakers are local and meet with all members for an in-person interview, enabling them to get to know each member personally and then use their database to find them compatible matches. Matches are proposed, but only after both parties agree to meet is contact information passed along. The JMontreal matchmakers offer guidance throughout the dating process if members should request it. It is safe and confidential, and those making the matches truly have the members' best interest in mind.
JMontreal matchmaker Jennifer Wise Miller feels that this methodology is better than traditional dating sites, because people do not simply "browse pictures and pick someone based on their physical appearance." Having matches set up based on compatibility, not just appearance, is key in forming relationships that will last, and result in marriage.
Matchmaker Miriam Kreisman says JMontreal is "transforming what needs to happen for singles." She and other matchmakers are passionate about making the right matches for their members.
About JRetroMatch.com
JRetroMatch.com was established in March of 2006 to serve the non religious Jewish community. The service blends tradition and technology to revive matchmaking. JRetroMatch combines personalized service from its 350 matchmakers with the unique technology to deliver a quality Jewish dating experience for each of its 30,000 members. JRetroMatch was created to benefit Traditional, Conservative and Reform Jewish communities throughout the world.