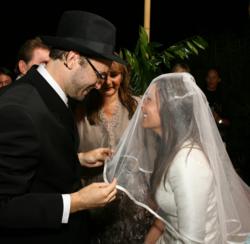 Since the start of 2012, SawYouAtSinai Jewish dating service has been making 3 matches (engagements) per week.
New York, NY (PRWEB) February 13, 2012
Jewish Dating service SawYouAtSinai.com success rates continues to rise. Since the start of 2012, SawYouAtSinai has been making 3 matches (engagements) per week. Their success is not bound by age or location, as the engaged members range from 18 years old to 68 years old, and are located in 15 different cities across 3 different countries. Continuous training of the matchmakers combined with their dedication and expertise is repeatedly demonstrating the success of SawYouAtSinai's unique matchmaker based online dating model.
Launched in December 2003, the site is helping thousands of Jewish singles to meet their match. The service has 350+ dedicated expert matchmakers to assist the singles, helping to screen profiles and match their members using a unique technology. The members benefit to having access to both a large international Jewish singles database and a large matchmaker network regardless of where they live in the world.
"We aim to provide a personalized service for our members, like no other dating site" says Danielle Solomon, COO of SawYouAtSinai "We have matchmakers that focus on specific age groups, religious levels and ethnicities, and that enables everyone to receive the best service possible"
Whether the members are matched within the same city, or across the world from each other, the matchmaker is there for those that want guidance for part or all of the Jewish dating process. The service is hugely popular for that reason, and it also saves members time from having to search for themselves.
About SawYouAtSinai
SawYouAtSinai was created in December 2003 to satisfy the need for a more private and personalized approach to online Jewish dating. This Rabbinic-endorsed site uniquely combines the power of technology, the accessibility of the internet, and the personal touch of a matchmaker to serve its 30,000 members. SawYouAtSinai has over 350 experienced matchmakers from diverse backgrounds, focusing on its members' various age ranges, religious levels, locations and personalities. It has the largest Jewish matchmaking network worldwide. With over 1,400 members successfully matched, SawYouAtSinai continues to benefit Traditional, Conservative, Yeshivish and Modern Orthodox Jewish singles from Jewish communities throughout the world.
###