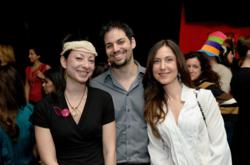 Our goal is to create meaningful relationships...The online JMontreal service & large events provides multiple ways for people to meet
Montreal, Quebec (PRWEB) March 16, 2012
Over 600 students and Young Adults crowded into La Salla Rossa for one of the biggest Purim parties ever in Montreal. The party was hosted by JMontreal.com, Adam Stotland, YJP Montreal, Chabad NDG and Chabad Mile End with the goal of helping Jewish singles to meet.
JMontreal.com, the Jewish dating and matchmaking service, provides events for its members to encourage people to meet face to face in a relaxed and enjoyable setting. The Purim party provided just that – there was great food, live entertainment and music throughout the evening. With Purim being the Jewish Festival to dress up in costumes, it was a great way for singles to meet in a relaxed and enjoyable atmosphere.
The JMontreal Jewish dating service uses a combination of both personal matchmakers and a unique matching technology to create quality suggestions for Montreal singles. The JMontreal matchmakers were present at this event, and helped facilitate matches throughout the evening. Since the event, members have been contacting their matchmakers to let them know about those people they were interested in meeting again, and the matchmakers have been sending them each other's profiles so that they can get to know more details about each other.
"Our goal is to create meaningful relationships" says Rabbi Yisroel Bernath (CEO of JMontreal.com, co-director of Monkland Jewish Centre - Chabad NDG and Concordia), "The combination of the online JMontreal service and our large events provides multiple ways for Jewish singles to connect"
The Purim event takes place annually at different locations in Montreal, and additional events run throughout the year. Last year's Purim party featured Cirque du Soleil performers and was also a great success.
About JMontreal
JMontreal is a local online Jewish dating service where local Jewish matchmakers, with the help of Advanced Computer Algorithms, assist Jewish singles of all backgrounds and observance levels with finding love and meaningful relationships. JMontreal is a non-profit, and nominal fees are set up only to cover the estimated $80,000 annual cost to operate the website. The site is run by Rabbi Yisroel Bernath who also co-directs the Monkland Jewish Centre - Chabad of NDG and Concordia, a center for young adults open to anyone interested in connecting to or learning about their Jewish heritage. The center provides social, educational, recreational and spiritual programming for students, youg adults and familes in the NDG area.