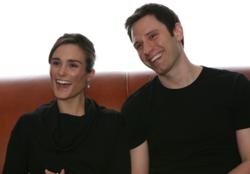 Having a matchmaker narrow down suggestions, and highlight why a match is a great idea, makes a huge difference to those dating
New York, NY (PRWEB) December 06, 2011
Online Jewish Dating services SawYouAtSinai.com and JRetroMatch.com announce their latest engagement due to their close partnership. Their partnership allows members who are compatible to be matched across the sites. This match continues to show that online Jewish dating works even for people who live in close proximity to each other and figured that they already personally knew the Jewish singles in the neighbourhood, or would have already been set up through their friends. Alice A. of Evanston, IL and her match Bob B, of Chicago IL lived less than 15 miles away from each other and had met numerous Jewish singles in the area before, but it was SawYouAtSinai and JRetroMatch that eventually brought them together. Match #649, was made by one of company's dedicated expert matchmakers.
With a combined database of 30,000 Jewish singles, it was one of the services' 350 matchmakers that saw this match's potential, and knew good things were to follow. The couple feel that it was having a personal matchmaker to get to know them and what they were looking for, that was the key to this Jewish Dating success. JRetroMatch and SawYouAtSinai uses unique matching technology to filter match suggestions, but it was expert matchmaker Suzi Zettel, who read their profiles, got to know them, and determined that they would make the perfect match.
"It's always exciting hearing about a couple who do not live so far from each other, and have possibly attended the same Jewish singles events in the past, connecting through our services," says Danielle Solomon, COO of the Jewish Dating Services. "Having a matchmaker narrow down suggestions, and highlight why a match is a great idea, makes a huge difference to those dating."
Alice and Bob could not agree more. They are the 649th engagement made using the SawYouAtSinai and JRetroMatch technology.
About SawYouAtSinai and JRetroMatch
SawYouAtSinai was created in December 2003 to satisfy the need for a more private and personalized approach to Orthodox Jewish Dating. The Rabbinic-endorsed site focuses on the more religious Jewish singles community, and uniquely combines the power of technology and the personal touch of a matchmaker to serve its members. JRetroMatch.com is the exciting spin off to the Orthodox dating site. JRetro was established in March of 2006 to serve the non religious Jewish community. Like SawYouAtSinai, the service blends tradition and technology to revive matchmaking. JRetroMatch combines personalized service from its 350 matchmakers with the unique technology to deliver a quality Jewish dating experience for each of its 30,000 members. With over 1,300 members successfully matched, the company continues to benefit Jewish singles communities throughout the world.
###