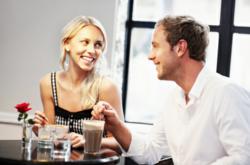 Our goal is to make the Jewish dating process as smooth and pleasant as possible.
New York, NY (PRWEB) March 06, 2012
Jewish Dating Service, SawYouAtSinai.com (SYAS) has a lot of experience when it comes to dating. There are 30,000+ singles in the database, 350 matchmakers matching people, thousands of dates occurring and already over 1,500 engagements to their credit. The team hears a constant flow of feedback from singles and as a result of SYAS's extensive experience, SYAS is now employing that information to enable singles to put their best foot forward and help them avoid making repeated mistakes in their dating lives.
"Our goal is to make the dating process as smooth and pleasant as possible.' says Danielle Solomon, COO of SawYouAtSinai. 'We compile dating tips based on feedback from matchmakers, and both male and female members. These tips can make the difference between a match ending at the first date, versus it continuing to a second date, third date and ultimately the couple becoming engaged.'
Here are some tips that they have given to female Jewish singles dating on the site based on some of this feedback.
Preparing for the Date:

If the male has called twice with no response and left a voicemail, then at that point the female should be courteous, and either return the call, or text the male to let them know when they will be available to speak.
If the male suggests a few options of where to go or what to do on the date, then it would be appreciated if the female gives her preference. This will lead to a more relaxed and enjoyable date. If there is an activity, or a type of food/restaurant that the female does not like, that could also be mentioned.
During the Dating:

When out on the date, make sure to say thank you. Whether the male held open the door, dropped you off at home after the date, paid for the date etc, men really notice when someone shows appreciation and it makes a huge impact. This simple courtesy speaks volumes about a person's character.
Offering to pay for part of the date, even if the man has no intention of letting the woman pay, is still acknowledged and appreciated nonetheless.
If you are quiet/shy, it is important to make a concerted effort to participate in the conversation, so that it is not awkward on the male, and pressure for them to continue speaking throughout.
Feedback has shown that women who tell their date that they are last of their friends to get married is a big turn off. The man can interpret this as the meaning that the woman is desperate.
For either party to discuss any former relationships/dates early on in the relationship is very off putting to the other person.
If you know you are going to close the match, do not state that you've had such a wonderful time and would like to see the match again. This is misleading and gives the other person a false hope. This is a mistake that has been done by both males and females. Rather express thanks for the person's time or say you would like to think about it, so you come across appreciative but still genuine.
After The Date:

Please be in touch with the matchmaker (or match directly) within 1-2 days to let them know if you wish to continue dating that person or not. It is unfair to leave the person waiting.
Even if you realize that the person is not for you, please think about whether they would be good for a friend of yours. This is a fantastic attitude for everyone to have.
These tips have been helping members to make the dating experience a positive and effective one.
About SawYouAtSinai
With over 30,000 members and over 1,400 engaged members since 2004, SawYouAtSinai is the largest Jewish matchmaking network. Through its sites JRetroMatch, which focuses on secular Jewish singles, and SawYouAtSinai, which focuses on Yeshivish and Orthodox Jewish singles, singles receive the personal touch of a matchmaker to facilitate each member's unique personality & needs. Matchmakers pre-screen, select and send matches to members, and with profiles only accessible to compatible singles, privacy and discretion is maintained. With 300+ experienced matchmakers, SawYouAtSinai serves Traditional, Conservative, Yeshivish and Orthodox Jewish singles from communities around the world. People can sign up today at SawYouAtSinai.com. Plus, find out about upcoming Jewish Singles Events at JewishToDo.com.