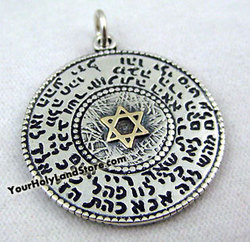 If you want the best of both, a piece of jewelry that is a mix of religion and fashion and also have a deep spiritual meaning then you found a right place - YourHolyLandStore.com
New York, NY (PRWEB) June 13, 2010
If you want the best of both, a piece of jewelry that is a mix of religion and fashion and also have a deep spiritual meaning then you found a right place. Israeli-based online store, http://www.yourholylandstore.com, is now offering a new range of beautifully designed kabbalah and jewish jewelry in styles ranging from traditional to contemporary with hand engraved blessings and psalms in Hebrew and in English.
"Whether you want a piece of jewelry with meaning, or simply admire stylish, attractive jewelry, this line of spiritual kabbalah and jewish jewelry offers something for everyone," Yevgeny Kuritsky, the store owner, said.
The store offers products such as the 72 Names of God Kabbalah Pendant with Hamsa Hand, Song of Accents (Shir LaMaalot) Pendant with Star of David, Shema Israel Pendant with Protection Blessing, Protection Blessing Double Pendant with Star of David,Locket with Tehillim Book of Psalms on Microfilm, and many other products.
The products are designed and made by local Israeli artists. The silver pendants which are manufactured by various silversmith techniques, are used as a base for the vivacious designs, providing them with shapes which are influenced by elements from the plant and animal kingdoms, the Israeli cultural and material world, and by romantic and mystical influences.
If you are considering getting yourself another piece of wonderful kabbalah jewelry than there can be nothing more wonderful and meaningful than the 72 names of God pendant. The 72 Names are 72 three-letter sequences composed of Hebrew letters that have the extraordinary power to overcome the laws of both mother and human nature. These 72 sequences are actually encoded into the Bible story that tells of the parting of the Red Sea. They are like conduits that transmit various blends of energy from the Light into our physical world. By using the power of the 72 Names and overcoming their reactive natures, Moses and the Jews were able to accomplish the miracle of the Red Sea.
Popular sellers on the site include the Shema Yisrael necklace, which is made from 925 Sterling Silver and ornately decorated. It can be accessorized with a matching Shema Yisrael leather bracelet. Shema Yisrael (or Sh'ma Yisrael or just Shema) are the first two words of a section of the Torah (Hebrew Bible) that is a centerpiece of the morning and evening Jewish prayer services. The first verse encapsulates the monotheistic essence of Judaism: "Hear, O Israel: the Lord our God, the Lord is one," found in Deuteronomy 6:4. Observant Jews consider the Shema to be the most important part of the prayer service in Judaism, and its twice-daily recitation as a mitzvah (religious commandment). It is traditional for Jews to say the Shema as their last words. The words are "shema yisrael adonai eloheinu adonai echad (silently) baruch shem kavod malchuto le'olam vaed".
You might want to look at the kabbalah red string bracelet which is supposed to be quite customary as it is known to keep the wearer away from misfortune and the evil eye. It is traditionally made from red wool and tied on the left wrist of the wearer. New line of kabbalah jewelry includes red string bracelets with different pendants like hamsa protection hand, evil eyes and star of magen david. The kabbalah red string bracelet has become such an iconic fashion statement that you will find several popular celebrities around the world wearing it. The latest jewelry version of the kabbalah red string bracelet is that it can be interwoven with 925 sterling silver, and the red string to give it that stylish and chic look. Also, this makes it sturdy and durable. Moreover, if you are looking for that perfect piece of Jewish jewelry and that works as a lucky talisman as well, then there can be nothing more apt then the kabbalah red string bracelet.
Some of the jewish jewelry have various blessings written. Good example is pendant with the Priestly Blessing - "May Adonai bless you and guard you" (Hebrew: Birkat Kohanim), is a Jewish prayer recited by Kohanim during certain Jewish services. The source of the text is Numbers 6:23–27, where Aaron and his sons bless the Israelites with this blessing. This is the oldest known Biblical text that has been found; amulets with these verses written on them have been found in graves in dating from the First Temple Period.
It is a perfect gift to give to one's wife, husband, child, friend, sweetheart and a great jewish gift for Bar and Bat Mitzvah or wedding.
Those seeking more information may visit http://www.yourholylandstore.com
###