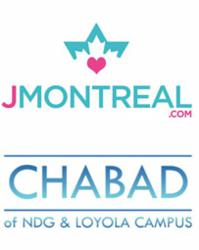 Tu B'Av is a holiday about love, and … well, everyone loves dessert
Montreal, Quebec (PRWEB) July 12, 2012
On Thursday August 2nd, Chabad of NDG will present a sweet Tu B'Av cocktail party at its centre located on Monkland Avenue. Tu B'Av, a Jewish night of Love, is a magical time where Jewish singles searching for love come together for a celebratory evening in the hopes of meeting their Beshert (true love). This year, Chabad of NDG has added a little bit of sugar to the mix by putting together a dessert-a-thon, "Sugar Chai", to enhance the party's already charming appeal. The night will feature an assortment of 18 desserts, 18 representing Chai which is good luck in the Jewish religion.
"Tu B'Av is the Jewish Night of Love!" says Rabbi Yisroel Bernath, founder and spiritual director of the Monkland Jewish Centre-Chabad NDG. "It's a special night for those who are looking for their better halves. There is no better way to share the spirit of joy than with a l'chaim, which means "to life".
Hosted by a group of volunteers, and sponsored by JMontreal, Gen J and YJP Montreal, the night will feature DJ c-Kay, drinks, desserts and a cool mix of people who want to take a break from the every day and experience a little bit of Jewish romance. The evening is for couples, singles and dessert lovers alike to experience a summer cocktail in a Chabad setting.
"Tu B'Av is a holiday about love, and … well, everyone loves dessert," says Ron Nessim, volunteer for Chabad of NDG. "Historically we've mostly done meat meals at Chabad, therefore we figured we could have a little fun with an all dairy dessert menu."
The concept behind "Sugar Chai" materialized when volunteer Daniel Bensimon saw a need for a dessert-a-thon, after seeing the amazing success that came about with Chabad's first Fridays Shabbat dinners.
"The genesis for "Sugar Chai" stems from a sweet tooth that is shared by me and Rabbi Bernath," explains Bensimon. "I have a wicked sweet tooth and since the first Fridays proved to be so successful, I felt we needed to have an event where we skipped dinner and jumped right to dessert. And so it became a reality."
About the Chabad of NDG
The Chabad Centre of Monkland and NDG is THE place for young Jews to congregate, share in religious practice and learn about their heritage. In just over four years, it has become the spiritual sensation of the West End. Rabbi Bernath also created JMontreal.com to help Jewish singles meet.