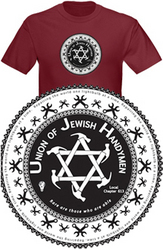 Let him know you appreciate him repairing the world one light bulb at a time.
Atlanta, GA (PRWEB) June 8, 2010
Did you know that nearly half of fathers recently surveyed said they have pretended to like a Father's Day gift they received? So this year forget the bucket of golf balls or the bottle of cologne and buy your Jewish father a funny Jewish T-Shirt from the best Jewish gifts websites on the net: ModernTribe.com or PopJudaica.com.
This Father's Day negotiate the perfect gift for the man with a tool-belt and a grievance: give him the Union of Jewish Handymen T-Shirt. Dad will look cute in the latest design from Jewnion Label - a line of smart, funny Jewish themed apparel inspired by vintage trade union emblems. Let him know you appreciate him repairing the world one light bulb at a time.
Street artist Dave Choe has illustrated graphic novels, created surreal, groundbreaking murals around the world and has designed the Double-Dutch T-Shirt exclusively for Jewcy, the blog and brand devoted to broadening meaning and community among the new Jewish generation. Outfitting Dad in the Double-Dutch T-Shirt is the easiest way to make him cool this Father's Day without turning up the air conditioner and giving your mother a draft.
On Pop Judaica Funny Jewish Gifts:
Is Pop a Jewish Yankee fan? Then give him some Bronx Bomber love and Jewish pride this Father's Day with a Jews for Jeter T-Shirt from Jewish Fashion Conspiracy. After winning five World Series rings, New York Yankees' shortstop Derek Jeter is worth following. With Dad sporting one of designer Sarah Lefton's cheeky tees, he'll finally look as fun and hip as he was before he had kids.
2010 on the Chinese calendar is the Year of the Tiger, but according to The Jewish Zodiac it is also the Year of the Schmear. So if Dad believes in the holy ritual of Sunday Brunch then the Year of the Schmear T-Shirt is the most appetizing Father's Day present. The Schmear is one of the 12 (de)signs from The Jewish Zodiac inspired by Jewish cuisine: deli food, of course!
ModernTribe is the owner of ModernTribe.com and PopJudaica.com and partners with independent designers to bring fresh, design-forward and trendy Jewish gifts and Judaica to the new Jewish generation.
# # #