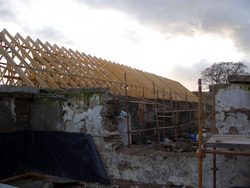 It's been a great experience working with Jewson right from the very beginning.
(PRWeb UK) March 18, 2011
When DIYer, Chris Thundow and his wife, came across a dilapidated barn for sale in Thankerton, Lanark, they immediately knew they had to restore it to its former glory. With a little help from the Wishaw branch of Jewson, the UK's leading supplier of sustainable timber and building materials, the couple are breathing life back into the historic local building.
"As soon as we saw the for sale sign, we knew we wanted to do something special with the building," says Chris. "The previous owner already had planning permission to render the exterior and split the property into two houses but we thought it was a shame to change the traditional façade as it's a part of the area's architectural past."
Keen to preserve the appeal of the old stone building, Chris decided on a more sensitive refurbishment that would simultaneously update the interior into a modern family home. Turning to his local Jewson branch for guidance and building materials, he set out to restore the property using as many sustainable products as he could.
Kris Keane, Branch Manager at Jewson Wishaw said: "Chris came to open an account with us on the recommendation of his brother, who has been a regular customer here for a while. We're pleased to have been able to offer our help – particularly when it's going towards preserving the character and history of the buildings of the local area."
Using period finishes for the exterior of the building, such as reroofing with traditional tiles, the internal design focused on creating a vaulted, open plan living space, which was achieved using Jewson sustainable timber. A timber shell was installed inside the solid stone walls, which could then be fully insulated, while the original floor was removed and replaced with concrete slabs on top of a waterproof membrane.
Chris said: "It's been a great experience working with Jewson right from the very beginning. Initially I started off quite small, just picking up a few bits and pieces here and there, but as the project went on they have become my main source of materials.
"They've been really helpful as I've needed more and more materials, as well as being extremely supportive and in terms of providing guidance and advice. This is the first time I have undertaken a project as big as this and I am completing all the work myself, so it is reassuring to have a reliable local supplier that I can depend upon to ensure the right products get to site at the right time."
As the UK's largest timber importer, Jewson has a national network of branches that offer Chain of Custody certification for timber products. Timber that qualifies for Chain of Custody certification is only sourced from 'legal and sustainable' forests. It guarantees that timber has been harvested legally and as part of an overall forest management system. Jewson is able to provide certified Chain of Custody timber to projects across the UK.
For more information please visit Jewson Self Build
# # #