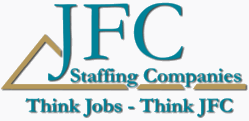 The JFC Staffing Companies helped employers in Central PA learn more about two important issues: unemployment compensation in Pennsylvania and avoiding discrimination / harassment claims.
Harrisburg, PA (PRWEB) October 20, 2011
The JFC Staffing Companies, Central Pennsylvania's leading full-service staffing agency completed their fall 2011 client seminar. By focusing on developing and executing professional recruiting strategies to fill job openings throughout Central PA, JFC serves as an extension of their client's HR departments. JFC's complimentary training seminars, available to current and prospective clients, focus on a variety of topics, including Human Resource, Employee Development, Supervisory Skills and Office Technology. These programs are created by professionals in the staffing industry and outside resources.
JFC's fall 2011 seminar included topics of unemployment compensation in PA and avoiding discrimination and harassment claims. It involved some great discussion and education on two topics that many employers have been seeing as important in their businesses over the last few years due to the rise of unemployment. The companies that participated in this training session rated the seminar as "Excellent" and found it to be very beneficial to their business.
If you are interested in attending these complimentary seminars in the future or are interested in learning more about Central Pennsylvania staffing services, please contact your local JFC office at your earliest convenience.
The JFC Staffing Companies, with offices throughout Central Pennsylvania, help place both temporary and permanent employees by catering to both workers seeking employment and employers seeking workers.
JFC Temps offers a huge variety of office support jobs, including secretaries, receptionists, telemarketers, data entry operators, customer service representatives and administrative assistants. In the light industrial and skilled labor fields, JFC offers inventory control, production, assemblers, quality assurance, bindery, food service, line leads, supervisors and more. JFC Temps recently added skilled labor recruiting to their business and is now recruiting and placing CNC machinists, welders, electricians, maintenance technicians, HVAC techs and plumbers on a temporary, temporary to hire and permanent basis.
JFC Global focuses on information technology, accounting, finance and engineering and staffs positions on both a contract and permanent basis. JFC Global has received the WBE certification through the Department of General Services of PA.
JFC Medical fills many jobs in the healthcare field throughout Central PA including executive healthcare as well as physicians, RNs, LPNs, and medical support positions like medical assistants, medical billers, medical receptionists, and medical secretaries.
The JFC Staffing Companies were established in 1975, and are made up of full-service, temporary staffing and professional search firms. JFC has innovative, cutting-edge services and value-added programs that have resulted in area business journals ranking JFC as the #1 independent staffing firm in the region. JFC is well known for their specialized recruiting and relationships with their customers. Experienced recruiters offer their expertise to match qualified job seekers with employers.
The JFC Staffing Companies have six convenient locations in Central Pennsylvania.
Camp Hill Office - 717-761-8095
Carlisle Office - 717-243-4475
Chambersburg Office - 717-709-9675
Harrisburg Office - 717-657-4923
Lancaster Office - 717-399-6474
York Office - 717-755-3100
# # #