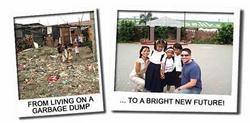 I grew up in extreme poverty and I am filled with gratitude with the life of abundance I am experiencing now. This is my part of paying it forward
Vancouver, B.C. (PRWEB) September 25, 2007
Jhet Torcelino van Ruyven is the author of best-seller "The Tale Of Juliet - You Have The Power To Change Your Life!" the story of her journey from abject poverty to a life filled with prosperity, love and abundance. She has arranged over $1,100 worth of incentives for people to buy her book today and she's donating the proceeds to build a new village where 35 poor families are presently living on a garbage dump.
Jhet knows about poverty because she used to share a grass hut in a desperately poor village in the Philippines with 13 members of her family. Everyday she used to walk miles to fill her basket and go selling fruit before and after school.
"I grew up in extreme poverty and I am filled with gratitude with the life of abundance I am experiencing now. This is my part of paying it forward" Says Jhet.
Today, Jhet shares a 4-storey home overlooking the Pacific Ocean with her husband and two daughters, and she owns a thriving business. Her book is a compilation of the lessons she's learned along the way, and the techniques she's used to make her dreams come true.
The Tale Of Juliet is a powerful record of Jhet's triumphs in the face of almost unbelievable adversity, and it contains lessons that can help others improve their life too:

how to remain optimistic, despite adversity
how to move beyond personal tragedy and loss
how to constantly improve your chances of success
how to live with an attitude of gratitude - all the time!
how to ask for, and receive guidance when you need it
and, how big dreams come true
The Tale Of Juliet inspires readers to make their own dreams come true.
And - when people buy her book today they also get over $1100 worth of free gifts from her mentor - Chicken Soup For The Soul co-creator Mark Victor Hansen, Wayne Dyer and other leading writers ~ and they'll be helping her to Build a Village for 35 poor families in the Philippines! For more information please visit
Dreams Come True
This is not a cure, but it's definitely a good start.
Contact:
Damian Loth, event director One Special Day tel: 604-816-3974
###