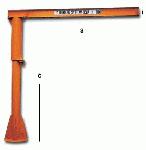 Jib Cranes Are Not Rocket Science, but are more important than Gingrich Moon Bases
Boston,MA (PRWEB) March 20, 2012
Ordering a Jib Crane should not be a complicated process, but ordering one results in jib crane jive far too often. To eliminate Jib Crane jive , A Plus Warehouse is simplifying the task of ordering a jib crane.
According to Ed Stairman , President of A Plus Warehouse, " Jib cranes are not rocket science , but the are more important than Gingrich moon bases" Jib cranes are required in many industries and are mechanically quite simple. Just select a high enough under clearance, get a long enough boom, confirm capacity, and you are good to go! The only slightly complex step would be to get a qualified engineer to confirm that your structure can handle a jib crane. Industrial space is normally constructed with concrete floors, so there rarely is a problem. Moon bases, are not really needed by much of anyone. However, with very low gravity, a moon base jib crane could be of a much lower capacity than a terrestrial jib crane, and still lift a load. Lunar gravity is approximately 1/6th of terrestrial gravity - so a jib crane with 333 pound capacity will be able to lift a load that would weigh 2000 pounds on earth. Shipping may be a problem, but the US Government is probably working on that also.
On a more serious note, what does A Plus Warehouse do to simplify ordering jib cranes? First of all, jib cranes are actually shown with true prices on the website. A simple item does not need to go through a whole engineering process for a simple quotation. All the required information is available. A Plus Warehouse will even sell customers bolt circle templates, so they don't even need to measure for mounting! There are several jib cranes A Plus Warehouse sells, and it is worth mentioning them. The most popular jib crane is the pillar mounted unit. This item mounts right into your concrete floor and typically has 360 degrees of boom motion. For lighter application, the work area jib can be great. For versatility, you can't go wrong with a fork mounted jib. Of course fork mounted jibs are only appropriate for plants operating forklift trucks! Any customer that needs hoisting equipment such as jib cranes, gantry cranes, slings, or hoists should come to A Plus Warehouse for no jive service!
About A Plus Warehouse:
A Plus Warehouse is an industrial distributor selling quality materials handling equipment and jib crane equipment nationwide and in Canada. When a customer wants top notch service, A Plus Warehouse is the choice