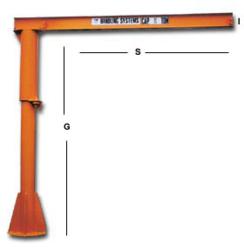 It is time to do a better job selling our Jib Cranes!
Boston,MA (PRWEB) January 15, 2012
Jib Cranes are an essential part of the manufacturing process, and A Plus Warehouse is a nationwide distributor for quality jib cranes. A Plus Warehouse has been providing American Made jib cranes and related equipment since 1996 and is now re-launching the Jib Cranes website. The sales team is excited about the jib crane re-launch.
According to Ed Stairman, President of A Plus Warehouse," We have been providing hoists to our valued customers for well over a decade. It is time to do a better job of selling our valued customers jib cranes". Mr. Stairman's point is that customers currently ordering hoists from A Plus Warehouse would certainly be better off getting related items like jib cranes from A Plus Warehouse as well. The company simply needs to show what is available in a more understandable format.
The new jib crane section provides ample information about the products, but tries not to over do it. Whatever engineering data may be required is certainly available by making a phone call or email. Most Jib Cranes at http://www.apluswhs.com are made in USA by skilled American workers. A Plus Warehouse is proud of this and has not intention to outsource production of jib cranes.
When considering a jib crane the customer is encouraged to think of a few factors. First of all, the customer wants to consider capacity. The Jib Crane should have enough capacity to handle the biggest load imaginable plus the weight of a hoist. The next thing to consider is under clearance. Under clearance is the amount of space under the beam. Every hoist and trolley has an amount of space required under the beam known as head room. Make sure under clearance minus head room is greater than the amount of space required. Ask a sales person about headroom when looking at a hoist system that goes with a jib crane.
Finally, please consider the environment the equipment will be used in. A corrosive environment may not be the right environment for a steel jib crane. Many boat yards use aluminum equipment instead, so rust is less of an issue.
A Plus Warehouse provides not only the standard pillar mounted jib cranes , but also wall mounted , work area type and individual use jib cranes. Whatever the application, A Plus Warehouse is prepared to help.
A few words on A Plus Warehouse:
A Plus Warehouse is a nationwide distributor of materials handling and storage cabinets. The company has a specialty in jib cranes and various hoisting equipment. A Plus Warehouse strives to maintain the highest customer service levels offered in the industry.
###