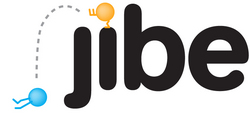 I just overheard someone talk about a celebrity doing something stupid. I want to see it now and be the first to share it with my friends -- from my phone.
San Mateo, Calif. (Vocus) June 24, 2008
Ever been stuck in a line and wondered what your friends are up to? Or wanted to check out some fun videos, pictures or news when you don't have access to the Web? Jibe Mobile, a start-up founded by a team of consumer-savvy mobile technology veterans, now makes it possible, for the first time, to access all your media and use that media as a fun way to connect and chat with all your friends -- all from your mobile phone.
It's called Jibe, it works on phones and the Web, and it's available today on a limited basis by request at http://www.jibemobile.com/mobilebeta.htm.
Jibe unifies all your friends on your phone. It gives you quick and easy access to your online content and the best content on the Web. And then lets you share that content, use it to socialize with your friends, no matter where they are -- on the Web or on their phone. Interacting with others using Jibe is easy and fun because, with just two clicks, Jibe offers chat and sharing of content across social networks, carrier networks, and devices. Jibe covers all modes of communication: mobile-to-mobile, mobile-to-Web, Web-to-mobile, and even Web-to-Web.
Who is it for?
Jibe is designed for people who like to view fun videos, photos, images and news tidbits and then use these to connect, share and socialize -- all from their mobile phone. Examples of when Jibe is the perfect solution:

"I want to search and view videos, photos and other fun media from my phone."
"I just overheard someone talk about a celebrity doing something stupid. I want to see it now and be the first to share it with my friends -- from my phone."
"I want all my friends in one place and to be able to see their status and connect with them using my phone."
How it works
Visit http://www.jibemobile.com and sign up for a free account. Once you install Jibe on your mobile phone, Jibe will connect with your social network and locate all your contacts on your phone. Instantly, all your friends, their contact details and their status are in one place --your mobile phone. Jibe makes it easy for you to see what they're up to, who is online and most importantly share, message and chat with them.
Jibe also introduces a new way of getting a friend's attention: the Shout. A Jibe Shout is like a 'voice poke' and offers a variety of fun, edgy and snarky prerecorded messages that are transmitted and then played on your friend's phone or via the Jibe widget on the Web.
With Jibe, your media is the message. From your phone or using the Jibe widget on Facebook, you can browse media on YouTube, Flickr and YahooNews and then share it with anyone in your Jibe address book. Jibe then figures out how to get it to them: if they're not a Jibe member, they'll receive an email or SMS text so they can view your Jibe Share on the Web.
Amir Sarhangi, co-founder and CEO of Jibe Mobile, saw a real need for Jibe when he noticed that huge numbers of people use media to interact with their friends very day:
"People often use videos and photos to start a conversation, but on the mobile phone this is much more difficult to do. Mobile messaging has traditionally been text and limited photo sharing. It's a hassle to use your phone to access media (YouTube, Flickr, Photobucket, etc.) on the Web -- and even more difficult to share it with your friends. We're addressing this problem and turning a regular mobile phone into a media socialization hub, with just two clicks," said Sarhangi.
What phone do you need to use Jibe?
Jibe offers broad support for more than 100 handsets including Blackberry, LG, Motorola, Nokia, Samsung and Sony-Ericsson. For legacy devices that do not support Java, Jibe offers a WAP viewing alternative: http://www.jibemobile.com/phones.htm.
About Jibe Mobile
Jibe Mobile is an angel-funded startup based in San Mateo, California. The company's founders, some of whom worked together at Vodafone Japan, have deep experience with the development and deployment of consumer-centric mobile applications. Jibe, the company's first product, makes it incredibly easy for people to discover online content and share it with anyone, either from their mobile phone or from the web. With Jibe, your media is the message.
Media contact: Tim Cox, ZingPR, +1650-369-7784, tim(at)zingpr.com
###