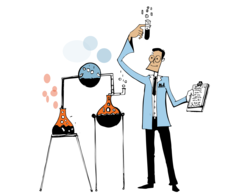 As the analytics industry evolves so will the role and title of the business or data analyst.
Bangalore, India (PRWEB) February 12, 2013
2013 promises to be an exciting year for Analytics and Data Science. A report published by Yesmail Interactive and Infogroup Targeting Solutions in January 2013 has shown that almost 70 percent of organizations plan to increase their investment in data marketing initiatives in 2013. Various other reports have suggested a strong demand for trained analytics professionals around the globe. Jigsaw Academy (http://www.jigsawacademy.com), one of the leading data science and analytics training providers, has brought together a panel of experts from around the globe to release the top predictions for 2013.
These are the predictions made by Jigsaw's expert panel for the analytics and data science industry in 2013:
1.High growth for Big Data Technologies and Services
Organizations have realised it is imperative to effectively make use of their large data collections to harness relevant data and make optimised business decisions. As such big data technology and services are slated to grow exponentially. Though Hadoop and MapReduce may well continue to be the industry standard tool for big data processing, credible competitors like Berkeley Data Analytics Stack will emerge to gain a sizable share of the market. Cloud based services like Amazons EMR will become more popular and open up business intelligence and analytics to a whole new set of traditionally non analytical users.
2.R's popularity on the rise
In 2013 data scientists will increasingly begin to migrate toward the open source analytical tool R. We will also see analytical tools that integrate Hadoop and R, gain popularity. In fact over the course of the year R could well approach SAS in terms of market share. Notably, in the Indian context more and more companies will adopt R, with small and mid size organisations leading the way.
3. Analysts will be called Data Scientists
As the analytics industry evolves so will the role and title of the business or data analyst. The term 'Data scientist' has already become wide spread in the US and the Indian analytics industry will be quick to follow. Data Scientists, as compared to traditional business analysts need to be inquisitive and have a keen business acumen. They no longer look at data from a single source but instead sift through all incoming data from multiple sources and discover a hidden insight that can influence their business favorably.
4. Analytics in the Indian retail industry will gather momentum
The Federal Government in India recently approved 51% FDI in multi brand retail. As such the Indian retail industry is slated to grow at an unprecedented rate. And as the organised and online retail ecosystem prepares for this growth, it will begin to invest in data collection, analysis, governance and maintenance. Analytics will be the new buzz in retail circles.
5. Data Science will become a crucial part of MBA curriculum
Given the huge demand for well trained data scientists, business schools across North America have begun to offer business analytics programs. We predict Indian B Schools too will soon integrate data science into their curriculum, giving their students an added edge at placements.
6. Web analytics in India will move beyond Google analytics and Omniture
In the web analytics department, as e-commerce takes off, many companies will want to leverage analytics as a competitive advantage. They will adopt more sophisticated programs that give them the edge they need to stay ahead. Only those that can embrace analytics within their culture will eventually succeed.
About the Company
Jigsaw Academy is a Bangalore based analytics training company that is run by analytics professionals. Their courses are designed and delivered by industry experts who have applied analytics to solve business problems in a variety of fields like retail, FMCG, financial services, telecom and health care. The instructors use their real-world experiences to teach analytical skills that are most valuable at the work place. Their flagship course called the Foundation course in analytics has been taken by thousands of students across the globe and has helped launch many careers in this new and exciting field. They have recently completed analytics training workshops in B schools across the country, including IIM Bangalore. They have also launched a course in Retail Analytics and Analytics with R.
Website: http://www.jigsawacademy.com
Blog: http://www.analyticstraining.com
Mail: info(at)jigsawacademy(dot)com
Ph: +91-98805-44099